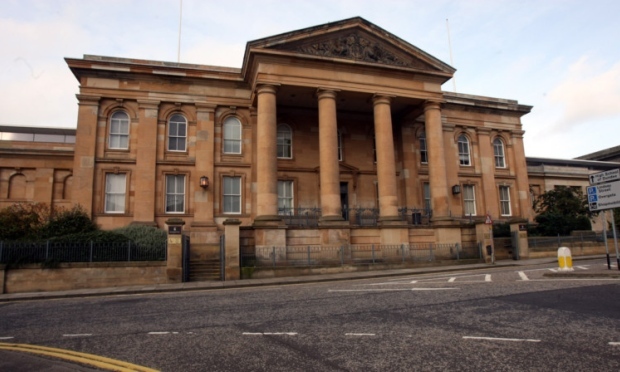 A man who battered his 16-year-old girlfriend – kicking her "full force" in the stomach minutes after she returned home from hospital after giving birth to their child in an attack carried out as she held their baby – was today jailed for three years and five months.
Derek Farquharson later went on to viciously abuse a second girlfriend – stubbing a cigarette out on her cheek in one attack and in another choking her within hours of bail conditions being lifted that banned him from seeing her.
When cops interviewed Farquharson the vile thug laughed his way through the interrogations and fell asleep.
Farquharson was 23 when he began a relationship with the girl, then aged 15, quickly becoming violent and controlling towards her.
She quickly fell pregnant at the age of 16 – with Farquharson shortly thereafter turning violent towards her.
At one point Farquharson attacked the girl – who cannot be named as she was legally a child at the time – when she was six months pregnant, punching her repeatedly on the head and arms before knocking her to the ground and injuring her wrist.
She immediately asked to go to hospital due to the pain – but Farquharson instead took her to a safari park for a day out before eventually taking her to Ninewells Hospital in Dundee.
Around that time brutal Farquharson repeatedly threatened the girl that if she fell asleep he would inject her with heroin – with her later telling police: "I hardly slept. I had nowhere to go so I just tried to survive really."
Fiscal depute Eilidh Robertson told Dundee Sheriff Court that the teenager gave birth in summer 2005 and was discharged two days after giving birth.
She said: "Whilst she had been in hospital she had had the accused removed from the ward for being under the influence of drugs.
"When she arrived home they immediately started to argue about this, with the accused telling her she had embarrassed him.
"She was standing holding the baby in her arms when the accused grabbed her arm and twisted it up her back.
"She screamed in pain and cried saying she was going to drop the baby.
"The accused let her put the baby on the sofa before grabbing her and pushing her to the ground and repeatedly punching her to the head and kicking her 'full force' in the stomach.
"She told police officers she thought she would die as she had only given birth 48 hours previously."
Miss Robertson said in a later relationship with another woman he "became controlling" – eventually becoming "horrible, scary and very intense".
In one incident Farquharson had been banned from seeing the woman by a court – but that those bail conditions were lifted on March 24 2017.
The pair went out to celebrate but lost each other during the night.
When they were reunited at his brother's house Farquharson reacted by dragging her out of a bedroom by her hair before punching her in the face.
Miss Robertson added: "On November 27 2017 the accused leaned over and grabbed her by the throat with two hands, restricting her breathing but not causing her to pass out.
"He let go after what she estimates was two minutes.
"He grabbed her hand and bent her fingers back and stubbed a lit cigarette out on her cheek."
Farquharson, 38, of Prior Road, Forfar, pleaded guilty on indictment to two charges of assault to injury on the teenage girl carried out at addresses in Dundee, Ayr, and elsewhere unknown between January 1 2005 and December 31 2006.
He further admitted three charges of assault to injury committed on the second woman carried out between November 27 2017 and March 16 2018 at an address in Arbroath, Angus.
Defence solicitor Billy Rennie said: "He accepts the conduct in itself has little or no mitigation.
"He is deeply remorseful.
"His lifestyle at that time had spiralled out of control.
"He does accept these offences will result in custody being uppermost in the court's mind."
Sheriff Alastair Carmichael jailed Farquharson for a total of 41 months.
He said: "These charges constitute two series of assaults committed by you when you were in two abusive relationships. You were quite clearly the abuser and behaved in ways intended to degrade, isolate and subdue your partners.
"All of these assaults are despicable.
"In particular, your threat to inject the girl with heroin if she fell asleep and kicking her full force in the stomach 48 hours after she had given birth are dangerous and disgusting."