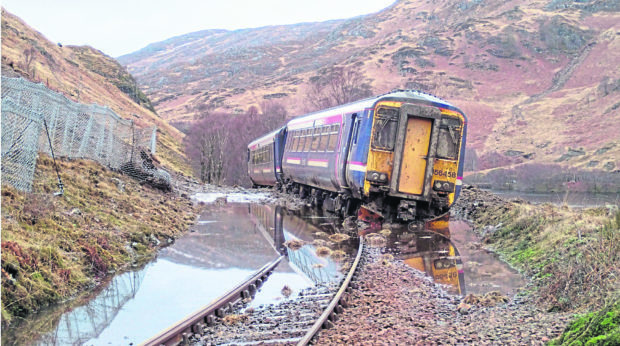 A passenger train derailed on a remote track in Lochaber after heavy rain and a rapid thaw of snow caused a massive 1,000-ton landslip, investigators have found.
The train, carrying five passengers and two crew, was travelling at 40mph between Lochailort and Glenfinnan just before 7am on January 22 when it struck hundreds of tons of mud and stones.
A report by the Rail Accident Investigation Branch said a protective fence at the scene above Loch Eilt had been "overwhelmed" by 5-600 cubic metres of material, weighing over 1,000 tons.
Investigators said: "The combination of rainfall, snowmelt and ground thaw resulted in substantial amounts of water running down the hillside. This high risk event was not apparent
"The driver of [the] train was unaware of debris obstructing the track until about four seconds before impact.
"Prior to this, the debris was hidden by a curve and darkness. The driver applied the brake but could not avoid the collision."
The report said the leading coach of the two-car train, travelling from Mallaig to Fort William, derailed to the left and came to a halt embedded in landslip debris.
It added: "There were no injuries, but some diesel fuel escaped from the damaged train and was carried by flowing water into a lineside drainage channel.
"Due to the inaccessibility of the site, pollution control measures were not put in place until later the following day, and by this time some diesel fuel had entered nearby Loch Eilt."
The investigators concluded that a greater understanding of snowmelt risk would not have avoided this crash, but may mitigate or prevent accidents in other similar circumstances.
The report added: "The absence of factors indicating a risk of a large debris flow meant that Network Rail did not install an automated landslip detection system as found at some higher risk sites on its infrastructure.
"However, Network Rail is considering more widespread implementation of enhanced landslip monitoring systems in future as technological advances make it practicable."
It has recommended to Network Rail continue a review into risks and to promote the development of weather forecasting processes to take account of snowmelt and ground thaw.
A Network Rail spokesman said: "The safety of passengers and staff on our railway is of the highest importance. We will closely review the RAIB findings and have also conducted our own internal investigation into this incident.
"We spend around £20m a year on earthworks and drainage projects in Scotland to try to prevent landslips and flooding and carry out regular inspections in locations where landslips are a known risk.
"We're also exploring how new technologies and monitoring systems and improved weather forecasting techniques can be used to improve how we manage weather events."