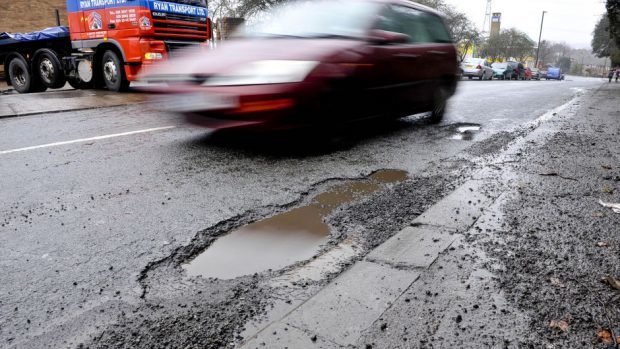 Transport Secretary Michael Matheson is facing calls to tackle a £3 billion roads repairs and potholes backlog.
The total bill emerged in a letter from MSPs on Holyrood's rural economy and connectivity committee telling Mr Matheson that a "step change" is needed in planning, funding and delivery of roads.
The letter highlighted Audit Scotland figures which suggest there has been a 26% decline in spending on local roads in a five-year period.
Current maintenance backlogs are estimated to be £1.2b for trunk roads and £1.8b for local roads.
More than 10,000 unrepaired potholes on local roads as budget cuts bite hard
The MSPs also noted a survey of road condition by the Society of Chief Officers of Transportation in Scotland (Scots), which measures the condition of Scotland's roads found around 37% of the local roads network requires repair.
Meanwhile an Audit Scotland report, considered by the committee, had indicated 13% of trunk roads need fixed.
The letter drew attention to evidence heard by the committee suggesting current spending on local roads maintenance is "unlikely" to prevent further deterioration of the network.
Rural councils had told the committee of the "particular challenge" of maintaining networks used by large numbers of lorries carrying timber and agricultural products.
One bus operator calculated annual damage to one of their vehicles due to poor road surfaces came to £2,150, suggesting a total cost to the industry and its 4,200-strong fleet of £9m.
The letter, signed by committee convener Edward Mountain, said: "The committee is therefore strongly of the view that a step change requires to be made in the delivery of road maintenance services in Scotland, led by the Scottish Government."
The committee recommended road maintenance is given a "significantly enhanced profile" as part of the government's National Transport Strategy to reduce the backlog.
West Aberdeenshire and Kincardine Tory candidate Andrew Bowie, said: "These figures lay bare a record of failure in funding councils to do their job. Aberdeenshire has the second-longest road network in Scotland but the council aren't given the means to cover it."
Recent figures suggest local roads in the north and north-east  have around 10,000 potholes with 8,685 in Aberdeenshire.
Evidence submitted to the committee in the autumn revealed Aberdeenshire is facing an £84m backlog for repairs to its 1,400 bridges and Moray faces a £40.7m road repairs backlog.
Earlier this week, the Press and Journal revealed plastic waste could soon be used on roads in the north.
Highland Council, which oversees the nation's largest local roads network, has decided to carry out the tests and report the results to neighbouring councils.
Under the plans, a small section of road would be laid in the Highlands early next year using a material that replaces part of the bitumen in the mixture with recycled plastic.
The move could represent a significant step forward towards the roll-out in Scotland of so-called "plastic roads", hailed as an environmentally-friendly way to repair or replace crumbling highways.
A Scottish Government spokesman said: "The most recent Audit Scotland report found 87% of trunk roads are in an acceptable condition.
"We are making significant efforts to maximise every penny that is spent on maintenance and our road asset management plan sets out how we prioritise maintenance and ensure cost-effective use of resources. The budget for maintaining roads Transport Scotland looks after has increased by more than £33 million in 2019/20."