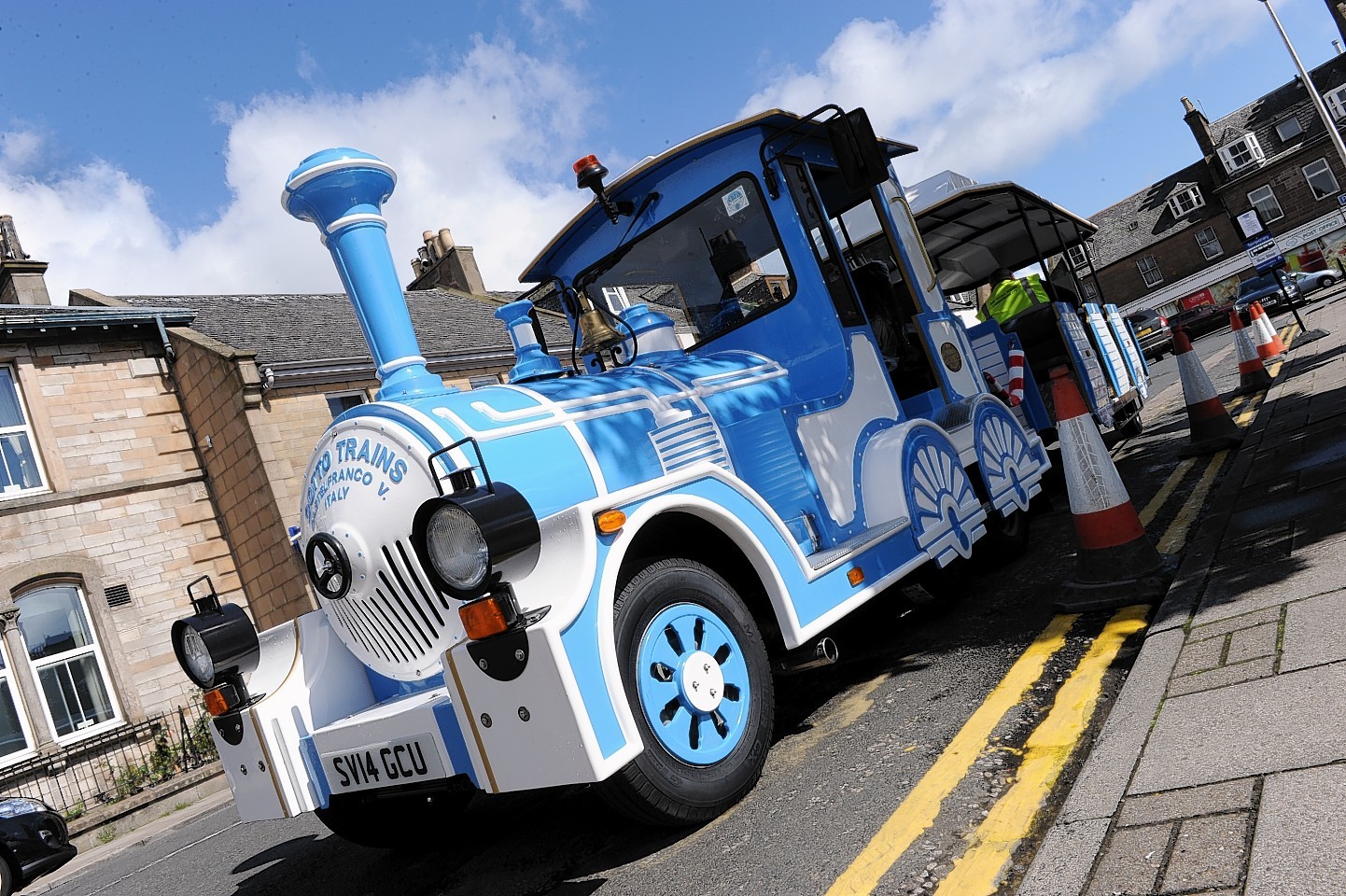 A long awaited Aberdeenshire tourist train came into use yesterday – on the last day of the schools holidays.
The Stonehaven land train is now transporting visitors from the town centre to Dunnottar Castle, Stonehaven Harbour and the town's beach front.
And yesterday, Stonehaven Town Partnership (STP) chairman, Douglas Samways, said he was "delighted" the project was up and running, despite such "hurdles" as not being able to use the train on the scenic Bervie Braes.
Mr Samways said: "We'd have really liked to have used the Bervie Braes road, but at the moment it's not possible.
"It is the ideal route because when you turn onto the Bervie Braes road from the castle you can see that lovely vista."
He added: "We would have preferred it to be running a few weeks back, but we are delighted that it is now operational. There's been quite a large number of people on it so far."
Mr Samways said that the train could continue to attract users, despite north-east school pupils heading back to their studies today.
He said: "Although our schools have gone back, schools south of the border haven't and there's also a significant number of foreigners still around."
The attraction will not be allowed on the Bervie Braes due to the weight of the train, which – at 4.5 tonnes – is above restrictions enforced by Aberdeenshire Council to prevent landslides.
Mr Samways added: "We'll continue to work with Aberdeenshire Council on this project."
The STP has selected an alternative route through Stonehaven at times when congestion piles up around the harbour.
The train will travel along the Greenden road, which stems from Dunnottar Avenue and cuts into the Old Coast Road along from Bervie Braes.
The 18-seater train is planned to run from April until September annually, and employs eight part-time workers as drivers and conductors.
They will run tours through the town to the castle eight times a day between 11am and 6pm.
Mr Samways said: "There are a few reasons why we went into this project, there's a significant number of visitors to Dunnottar Castle, at least half of them from abroad, and we noted a significant amount were not coming to town after the castle.
"We thought it was an interesting way to attract visitors into the town."