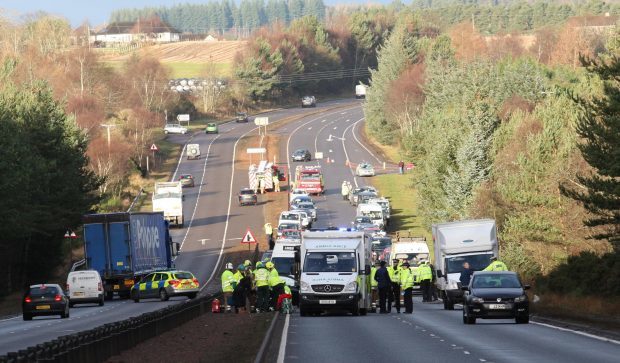 A road safety campaigner has asked for graphic images of mangled cars to be put in place along one of the most dangerous routes in the Highlands to prevent more accidents.
Alan Douglas, from the Institute of Advanced Motorists, is convinced only drastic action can prevent further deaths on the A9 Perth to Inverness road, where 18 cars were involved in smashes in less than 24 hours last week.
Mr Douglas said: "They need an innovative approach to it, pictures of car crashes where crashes happened.
"Maybe that is going too far, but people do need to be reminded there is no such thing as a dangerous road – there are dangerous drivers.
"I don't think you would get the politicians doing that because it's too scary."
Yellow average speed cameras had been put in place along the notorious route last year. However, in their first year of operation, they have failed to lower the number of deadly accidents.
Scottish Government figures have previously revealed that there were five fatal accidents on the northern stretch of the route – the same amount as the three-year average, and one more than 2014.
David Stewart, transport spokesman for the Labour party, said: "It might be seen as a horror element, but being in an accident itself is a nightmarish experience
"It is certainly something I would consider.
"The speed cameras are not popular, but I believe they have an impact on road safety and I think statistics prove that."
Michael McDonnell, Road Safety Scotland Director said:
"Shock tactics and graphic images may have a very short-term effect, as drivers tend to be very confident about their ability to avoid being involved in an accident.  Tackling road safety requires a careful mix of engineering, education and enforcement; that is why we work closely with colleagues in these areas to make sure the right initiatives are put in the right place at the right time."
A spokesperson for Transport Scotland added: "Safety is an absolute priority and every road death is one too many.
"Following the cameras introduction; two fewer people have been killed and 16 fewer people seriously injured between Dunblane and Inverness.  Last year was the first time since the late 1970's where there were no fatal collisions anywhere on the A9 from July through to December.  We have good reason to be confident the improved driver behaviour will continue to make the A9 a safer place while we continue our dualling programme as quickly as possible."