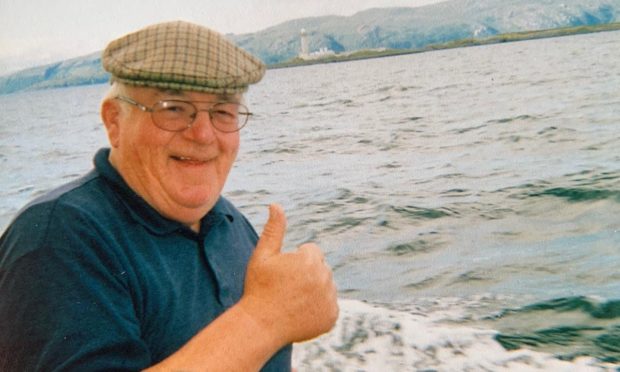 Portsoy lost a willing volunteer and servant of the sea this week, with the death of retired fisherman Victor Sutherland, aged 76.
Born in Portsoy, the youngest of seven siblings, on February 16, 1944, to fisherman James and fish quine Barbara (Sutherland) it was little surprise Victor attempted to leave school, age 14, to get out to sea.
That attempt failed, but a year later he began work on his dad's boat, Bezaleel, so beginning a lifelong career at sea.
Obtaining his skipper ticket aged 21, he took command of Bezaleel two years later.
And in 1976 he became the proud owner of the Volente BF262, his pride and joy in which he was to fish all his days.
After Volente was decommissioned, breaking his heart, he worked on safety boats until his retirement in 2009, when he bought a share in Treasure – a small boat in which he fished out of Portsoy harbour in with grandsons.
He met his wife of 52 years, Diane, in 1966 when she was visiting Portsoy from Manchester.
The pair married in April 1968 and welcomed daughter Dawn the next year, followed by Shona in 1970 and Sarah-Jane in 1976.
They were particularly proud when he rescued seven crew from the MFV Fertle, following its collision with another vessel in September 1984.
When on shore, Mr Sutherland enjoyed supporting his six grandchildren and watching them playing football or highland dancing.
Alongside his family and fishing, his other love was sport.
In the 1970s, he was one of the fishermen who loaned money for a new clubhouse at Portsoy Bowling Club, where he was a prize-winning member for over 40 years, the last three of which he spent as president.
Fellow bowler Andy Mackay said: "He loved the green but it didn't open until April so he'd taken part in the indoor season in the past few year too.
"He was our current president and one of the original fishermen who helped make the clubhouse what it is today."
Mr Sutherland also enjoyed watching cricket and football, supporting Buckie Thistle, Rangers, Manchester City and the Scottish national team, and volunteered at the community gym and football pitches.
His daughter Shona said: "He liked to keep everyone right, especially the young boys who would leave the heavy weights lying about and not tidy up after themselves.
"He loved his hometown and was very involved in the community.  He was a unique character who everyone knew and he spoke to everyone."
In his later years, Mr Sutherland was a member of Portsoy 75 Club and its choir, and was rarely seen without his bonnet, apart from the odd stint playing Santa for local toddlers.
He died on July 11, seven weeks after a cancer diagnosis.
Mr Sutherland is survived by his wife, daughters, grandchildren Debbie, Michael, Philip, Carrie, Tianna and Imogen, and great-grandchildren Ebony, Jack and Amber.
His family expressed their thanks to Portsoy Surgery and Marie Curie charity for their help during his illness.