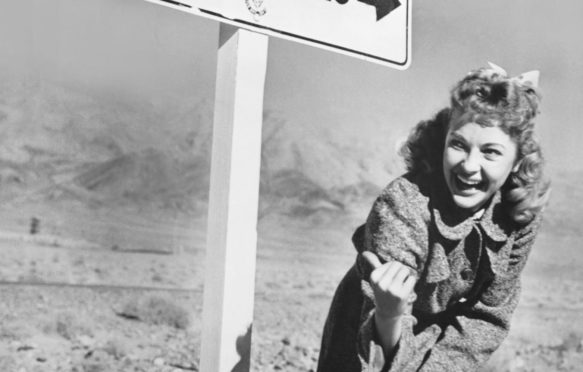 Lori Nelson, star of many 1950's films, was a proven performer before she was old enough to go to school.
Born in 1933 in New Mexico, she won the title of "Little Miss America" and went on to tour veterans' hospitals entertaining patients, acted in theatre productions and modelled for photographers.
She signed with Universal on her 17th birthday, after a studio scout saw her performing in a small theatre production.
And Nelson, who has died aged 87, went on to star in films such as the western Bend of the River (1952), – alongside Rock Hudson – The All American (1953), Destry (1954), Underwater! (1954) and Untamed Youth (1957).
Arthur Kennedy, Lori Nelson, Jimmy, Julie Adams & Rock Hudson on the set of BEND OF THE RIVER (1952). pic.twitter.com/vWm1B7Wfz1

— Jimmy Stewart (@MrJimmyStewart) July 9, 2020
On television, her plaudits included The Pied Piper of Hamelin and sitcom How to Marry a Millionaire.
Nelson was perhaps best known for her role as young student Helen, who was snatched from a restaurant by the terrifying Gill Man in the film Revenge of the Creature (1955), a sequel to 1954's Creature From the Black Lagoon.
In The Creature Chronicles: Exploring the Black Lagoon Trilogy, she told Tom Weaver: "I played opposite Rock Hudson, Tony Curtis, Jimmy Stewart, Dean Martin and Audie Murphy, but who's the leading man everybody wants to ask me about? The Gill Man!
"Universal had to twist my arm a little to be in a monster movie. But if I knew then how popular they would remain, I would have twisted their arm to be in a couple more."
Nelson had a ten-year break from acting in 1961 and returned with a guest role in Family Affair in 1971.
Her career was sporadic from then on – and her final role was in the 2005 low-budget science fiction horror film The Naked Monster, in which she reprised her Revenge of the Creature role.
RIP Lori Nelson who died yesterday at the age of 87 ❤ pic.twitter.com/pWenWuiYOm

— ClassicActorsOfHollywood (@CAOH110291) August 24, 2020
In recent years, the former-actress had been suffering from Alzheimer's disease.
Her daughter, Jennifer, confirmed her death at home in Los Angeles on Sunday.