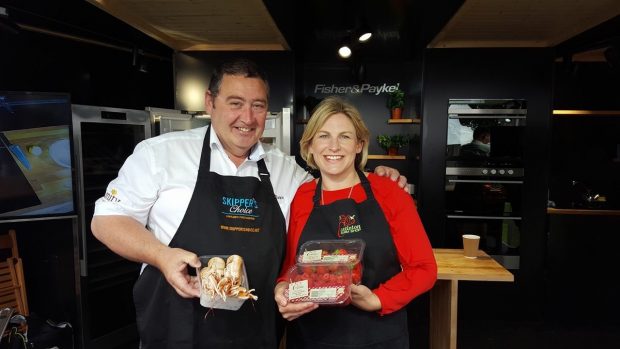 I recently attended The Royal Highland Show in Edinburgh as a working guest on 'The Aberdeenshire Village' stand.
It was an eye-opener to see the quality and range of the Shires' larder as well as the entrepreneurs from the region.
I was there representing my own fish supply company Amity Fish and performing a cooking demonstration using seasonal fish, landed at my home town of Peterhead.
Herring Maatjes, which is first season herring much sought after by our Dutch cousins, was my first demo. It's so quick and simple to make that even a novice can manage this recipe.
However, from simple and tasty to more exclusive species like scallops, squid, langoustine and monkfish, they were all used in my demos and presented in the most basic form with no frills food.
My big finale was to prepare, cook and present my own Paella recipe 'Jimmy Buchan' style, which was well received by the audience I had managed to attract.
Equally, I was supported and encouraged by my fellow producers from various parts of the Shire with fresh strawberries, beef, yogurts, eggs and oatcakes. The list is endless, however it makes you aware of the quality and niche products from the various food and drink sectors.
The Scottish Government has a progressive policy to see the Scottish food and drink sector grow to a 30-billion-pound industry by 2030 and I'm sure many of these companies will be contributing to that end goal.
This week, I have been involved with Seafood Scotland in a promotion of local craft beers and Scottish Seafood presented in a street food style. I have to say the concept worked well and could see that as a trend focused on the younger generation this idea would work well.
Hake tacos, beer-battered langoustine, lobster rolls and curry flavoured mackerel wraps all got a huge applause from the invited guests of food bloggers and restaurateurs alike.
The event held on the River Clyde on the Tall Ship, was a great scene setter, where in late June we were expected to be sitting on the top deck eating Scottish Seafood and sipping local craft beers was somehow damped with a monsoon passing through Glasgow.
Not deterred by a wet cloud burst, we reconvened below decks where I was able to entertain the gathered guests about the fish offering in each course and an anecdotal yarn with humour to make for an interesting evening. With Scotland being our first gig, as I write this I am travelling to London and Brixton Point to take the seafood promotion further afield.
I do enjoy promoting my industry and the story behind it. With fish stocks on the increase and the story of responsible and sustainable fisheries, we can stand loud and proud and promote our industry and the hundreds of years of history that our communities depend on.
With over 20 new vessels on order valued at over 300 million pounds, our fishermen now have the confidence to invest in their own futures and harvesting our rich seas with world class seafood.
Now is the time for me and my colleagues to tell the story of our heritage, industry, skills and people.
Wish me luck as I descend on the Big Smoke and tell the tales from the deep.