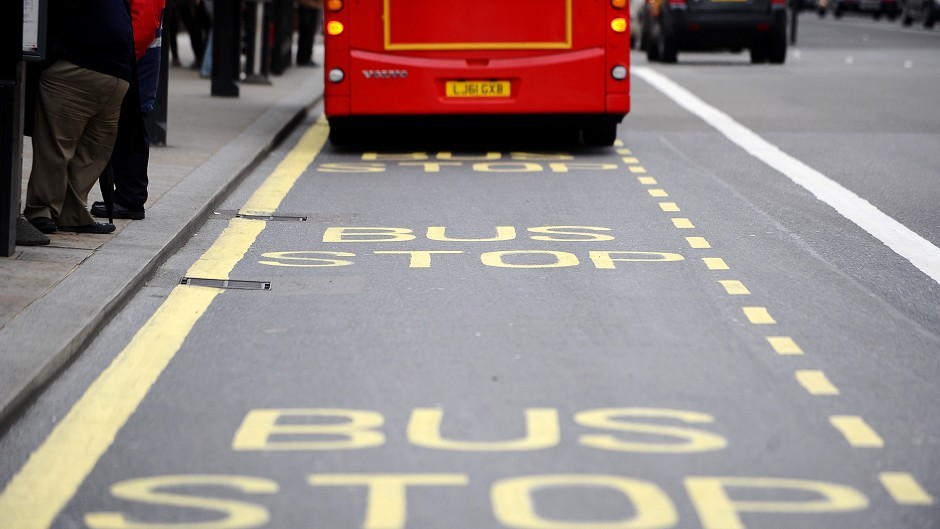 I was standing at a bus stop in Portlethen when I spoke to a young guy who had just finished his first day at work.
He lived in Inverurie and had a return rail ticket. He had taken with him his bicycle as it was two miles between the station and his workplace. However, having done a day's work he found his train was cancelled.
He called the station and was told he would be allowed to use his rail ticket on the bus so he tied up his bicycle and waited for it. As we spoke, the bus arrived and the lad told his story to the driver who told him he knew "nothing about that".
An argument started and eventually the driver gave up and allowed the lad to travel to Union Square, where he could get the rail connection to his home. I'm sure the young man will remember his first day at work, probably for all the wrong reasons.
This more than demonstrates the way that different forms of public transport fail to work together. I say public transport, but of course the running and control lies firmly  in the hands of the private sector with little accountability.
It has always amused me that in the UK we cannot produce an integrated time table for travel round our country.
Last year Scotrail cancelled 27,000 train journeys. A massive disruption to our lives. Not only affecting people's home lives, but also those of their employers.
Despite a 13-year low for punctuality, our rail network increased the fares in Scotland by 3.1% – the highest for six years. Though to be fair, the Scottish Government has capped the off peak ticket to 2.2%. Despite this intervention, we pay 55p per mile by train as opposed to 21p in Italy, and 28p in France. Only Norway comes close with 46p.
This is so awful when you consider that in Japan a rail service departs for every major city every 20 minutes. Meanwhile back in Scotland continual disruption due to industrial action and lack of staff takes its toll on the fare-paying  customers.
To rub salt into the wound, the rail network have removed free travel for young people between the ages of 5-15, replacing it with a charge of £1 per journey provided they are accompanied by an adult.
Unfortunately, the government has kicked the idea of removing the rail  franchise from Albelio  into the long grass by coming up with yet another review.
To be honest our buses sadly, aren't much better. And the public have little control.
Transport Scotland principles include reliability and punctuality, accessibility and attitude and behaviour of staff. When members of the public raise a concern it is often met with a shrug of the shoulders.
I experienced such indifference when I asked at the bus ticket and information counter in Union Square why the timetable in the main concourse didn't agree with the monitors. I was told: "That's the Council you would need to speak to. They are responsible for that."
On another occasion when trying to get assistance to help a disabled person access a bus I was told they couldn't. When I asked to speak to a customer service manager the response was that they "don't have such a thing". Not sure I believe that.
A CAB survey in the rural areas of the north east showed 78% of their customers said their bus  services were not frequent enough.  Meanwhile back in the city, despite being short listed for 10 quality awards, customers in the survey claimed local buses were too expensive and unreliable. The survey showed 79% of their customers were dissatisfied and 84% thought that fares were too expensive in comparison to other local authorities.
Despite claims to have invested in new technology, the bulk of that was invested in  Glasgow where £30 million is to be spent on introducing  new buses.
I do wonder if bosses ever experienced the inconvenience the travelling public does.
We are assured that £350 million  will be spent upgrading the rail line from Aberdeen to Inverness. That's certainly a start but surely insignificant when you hear £2 billion is to be spent nationwide. How much of that will come to the north-east is not clear. But as we are the hub of the UK economy via the Energy Industries so let's hope it won't all be invested in the central belt.
Let me urge all  those decision makers  involved in providing public transport  to cut  out the so called  special offers which few are aware of and look to providing a flat fare which is value for the travelling customers.
Perhaps an integrated bus system is still a long way off but I think an agency working together with the various local authorities would be best placed to take things forward .
However that would obviously require considerable government  funding. Ah well, just don't hold your breath.
---
Len Ironside is a former champion wrestler who served as an Aberdeen councillor for 35 years, four years as council leader