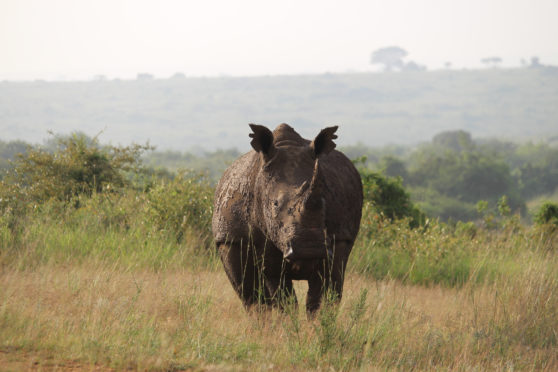 There's a cow in the middle of the path and she doesn't look like she wants to budge.
I slow down as I approach with the pushchair, nervous at the impending stand-off. She turns to face me head-on, fixing me with a hard stare. and I stop altogether. There's something about the glint in her eyes that makes me wary.
A few minutes pass, but she doesn't move, not even a blink. A few more, to the point that I contemplate doubling back and taking another route. Until, finally, I get a grip of myself and muster up the courage to march (or rather scurry) by the animal.
Of course I'm aware how ridiculous this all sounds. We regularly walk through Nuns Moor, part of the common land in the centre of Newcastle, which is home to my in-laws. We've admired the grazing cattle hundreds of times, and never thought twice about the "no responsibility for any injury caused" signs.
And naturally – cue anti-climax – absolutely nothing happens, leaving me feeling like an utter wally.
The incident, if you can call it that, reminded of me of a similar, albeit significantly more unnerving, encounter with a black rhino in Nairobi National Park as a youngster. We were driving along a track when, all of a sudden, our car came upon the impressive specimen, who promptly turned and started to run towards us. Thankfully my quick-thinking dad managed a speedy reverse manoeuvre, averting the hairy moment relatively comfortably.
But it was a powerful lesson about treating Mother Nature with respect. And although frightening at the time, far from putting me off, if anything it increased my fascination with the natural world and its big beasts, who patrolled the plains long before any of us were around. Hopefully they will do so for generations to come, but their future sadly remains uncertain.
Rhino conservation was back in the news spotlight this week after scientists at the University of Oxford and Fudan University in China unveiled a technique for the cheap manufacture of fake rhino horn using horse hair. The idea is that by flooding the black
market with this substitute, it could undermine international trade in the genuine product, which is illegal, by beating down the price of real rhino horn and, in so doing, reducing the financial incentives for poachers and smugglers.
Despite being banned, there is continuing high demand in China and Vietnam, for example, for use in traditional medicine, ornamental carvings and as an aphrodisiac. Professor Fritz Vollrath, from Oxford's zoology department, said the project sought to convey the message that rhino horn is "nothing magical", merely "a tuft of nose hair".
But the research sparked immediate warnings from conservation charities that such an approach could, in fact, stimulate the market. UK-based Born Free said it might also impede ongoing endeavours to educate buyers, and make it harder to enforce the trade ban.
Meanwhile Dr Richard Thomas, of wildlife organisation TRAFFIC, said pushing a synthetic alternative could "reinforce the perception that rhino horn is a desirable commodity" And Deputy Director of Save the Rhino International, Jon Taylor, insisted there was "no substitute for anti-poaching measures at one end and reducing demand at the other".
On the one hand, I can see the economic logic of the scientists' proposal, and it goes without saying that no effort in the fight against poaching should be dismissed before careful consideration. But it's clear to me that the long-term solution has to lie in genuinely curbing demand through education and by engaging local people in conservation work, alongside steps to crack down on poaching on the ground.
While some rhinos might be saved by fooling buyers into purchasing fakes, the bottom line is that they still think they are buying the real thing and will carry on desiring it. Surely the goal must be to suppress that appetite in the first place? Although, admittedly, this is no easy task, as the poaching and rhino population statistics demonstrate. Three of the world's five species of rhino remain "critically endangered", which means they face a high chance of becoming extinct.
According to Save the Rhino International, there are just 65-68 Javan Rhino and fewer than 80 Sumatran Rhino left. The latter species have been on earth longer than any other living mammal. Moreover, some 8,889 African rhinos have been lost to poaching during the past decade, and while there has been a decrease since a peak in 2015, more than two rhinos are still killed every single day.
Up to now, Maya's not had the opportunity to see a rhino in the wild, thus far having had to content herself with a statue at the Barbican Library in London. We've read books about them, however, and I've been teaching her  a song I sang as a child in Kenya.
Because it's never too early to learn the importance of conservation, whether abroad or right here in the UK, or to foster an appreciation for our fragile planet and the creatures we share it with.
The song goes something like this:
There's a one-ton, two-horned giant in the sun,
It's a three-toed, four-legged rhino on the run.
For he's all too rare, so do take care,To shoot him with a camera and never  with a gun.
If only protecting them was as straightforward as a kids' rhyme.
---
Lindsay Razaq is a journalist and former P&J Westminster political correspondent who now combines freelance writing with being a first-time mum