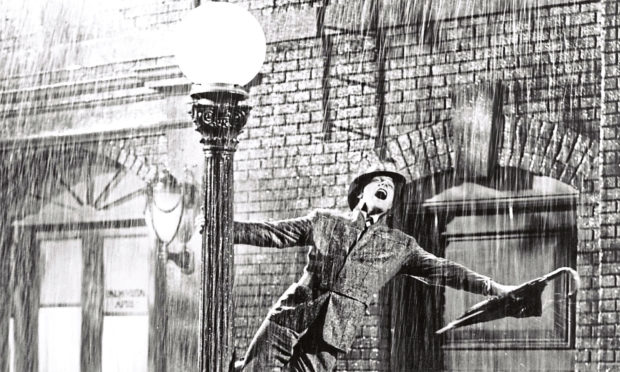 I come home to find my toddler spinning round the living room sporting a straw trilby and twirling an umbrella. "I'm Gene Kelly," she declares confidently, grinning, before nearly taking my eye out with one of the spokes. It's pouring down outside, it has been for several days.
Not brilliant weather when you have a small person to entertain, but helpful inspiration for Mr R's choice of childcare – a YouTube clip of the title number from the 1952 classic Singin' In The Rain. It transpires they have seen the video 15 times.
But on it goes again, so Maya can show me her routine, which consists of a series of haphazard turns, wobbly sways and almost-jumps as she laughs hysterically, while Mr R tries his foot at tap dancing. Nul points for pizzazz, but top marks on the Daddy-o-meter.
It's a heartwarming scene to behold – my tot can barely contain herself when Kelly's character Don Lockwood is "told off" by a policeman, drawing his splashy frolics to a close – and I'm moved by the timelessness of this iconic cinematic moment, which is older than my mum.
Particularly as I can recall enjoying the film with my nan, my dad's mother, at her house in London. I can picture her VHS collection vividly to this day and those she didn't own, but thought we might like, she'd record from the TV on to blank tapes.
Then, during school holidays back from Kenya, we'd be allowed to watch them with a few sweeties – mostly Jelly Babies, chocolate limes or Werther's Originals – as a treat.
Unforgettable memories – and here I am making a new one with the next generation to the very same soundtrack. Such is the power of music and performance art more generally – whether it be the famous Hollywood tunes or Doric lullabies at bedtime.
And the truly wonderful thing is you don't need to be a musical maestro to value it or take part, not to mention the increasingly well-documented health benefits.
Clearly, I'm biased. If you hadn't guessed already, I grew up in a house where we were exposed to lots of music – and many different types of music.
By way of an illustration, I once remarked how I wished life might be more like a musical with people bursting into song at any given second, to be reminded by my younger brother – who's now approaching 30 and getting married in July – that I'd essentially described our childhood (fair enough, he wasn't wrong, although, sadly, I don't remember any swinging from lampposts or heel clicks).
My excitement, therefore, at seeing the seeds of what will hopefully be a lifelong love affair sprouting in my own offspring is hardly surprising. Nor is my joy at hearing my daughter manage a few lines of song for the first time. She now hums along when we sing Ali Bali before she goes to sleep and has even mastered some of the words, albeit I'm not sure she's worked out what mummy means by a "bawbee" or a "croon".
Yet, believe it or not, this is not just about the music itself – far from it. For me, passing on family traditions, handing down titbits of social history, knowledge and culture that might otherwise be lost or diluted along the journey is of equal importance.
Naturally, I'm keen for Maya to be able to hold a tune and play an instrument, to experience the glee – dare I say the "glorious feeling" – that singing as part of a group can invoke. In the process, however, she'll also come to learn that one of her great-grandmothers spoke Doric and who Gene Kelly was. We've been trying to teach her Urdu for similar reasons, with some success.
Maya no longer asks for milk, for instance, rather "doodh doodh", and while she often gets shy, claiming to have "forgotten the words", can greet and inquire after my mother-in-law, to Mrs R Senior's understandable, utter delight.
Again, my enthusiasm for encouraging her is undoubtedly influenced by my background and interest in language learning.
And of course, to be able to converse in another tongue could prove invaluable to Maya in the future. But it's also a way of ensuring she recognises her Pakistani heritage, that she appreciates she's the great-granddaughter of a woman who lived through Partition, that Britishness isn't a one-size-fits-all label. I'm aware this may sound unhealthily nostalgic. Perhaps it is, although that's not how I mean to come across.
As someone prone to a wistfulness for the past, to sentimentality, I've grown to grasp that pining for the so-called good old days can create an unwarranted dissatisfaction with one's lot, that those rose-tinted spectacles are invariably unreliable.
We must spend our allotted stint on Earth wisely and doing so requires being fully present in the here and now. Nevertheless, at the same time, I believe wholeheartedly that in order to make the most of our lives, to be the best versions of ourselves, we do need to understand where we come from, to know about what and who went before.
For these are the little pieces on which we build our identities, the foundations on which we carve our path through the world.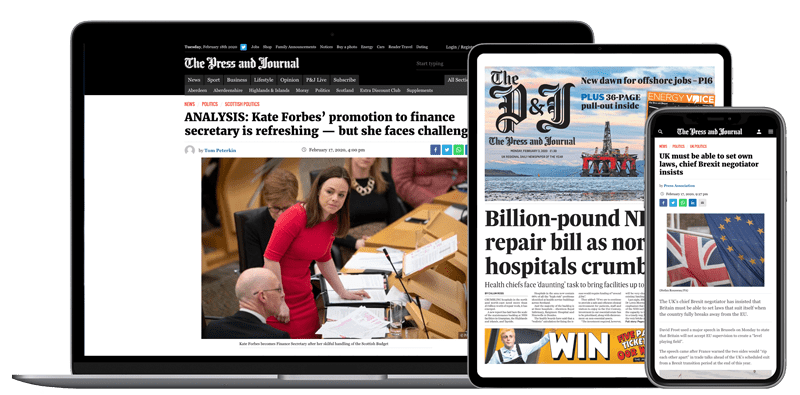 Help support quality local journalism … become a digital subscriber to The Press and Journal
For as little as £5.99 a month you can access all of our content, including Premium articles.
Subscribe