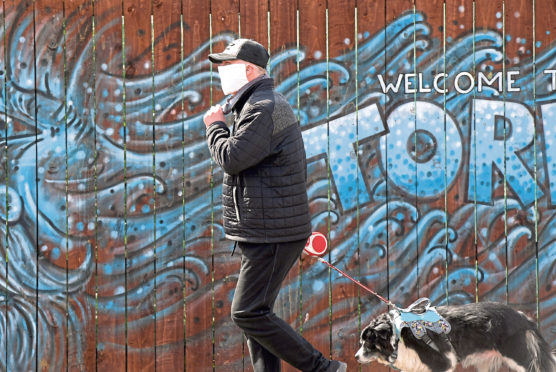 View From the Midden, rural affairs with Jock Alexander
It's been a muffled wik in the village. Life has carried on in a similar fashion tae the last six weeks, each day is indistinguishable fae the last. Somehow we've noo reached May, but we hinna hid neen of the usual pagan duncing in the Village Square this Mayday; as lockdoon continues and the square's still full of Skittery Willie's pigs.
But compared to mony, we canna complain, and we are happy tae abide by the rules. This wik the Scottish Government hiv recommended folk cover their faces while in enclosed public spaces like shops and on public transport, as this may hae "some benefit" in those situations.
Noo it's important here nae tae get confused. They dinna wint folk tae ging aboot in the medical grade face masks that oor valiant NHS need tae protect themselves; nah, nah, it's cloth masks, scarves and bandanas we should use; good news, as here in the village a thick woolly scarf is a feature of ab'dy's summer wardrobe.
Still, ye winna find us wearing masks in shops and on buses for one very good reason. We hinna got ony shops or buses. Public transport wis scarce enough here afore it a' kicked aff; we hinna seen a bus since January, and that een hid just got lost on its wye tae Huntly. And auld Jessie fa rins the village shop his shut it doon and is noo operating a delivery system fit involves ye standing weel back fae the door and shouting oot fit messages yer needing. She then stands in the doorway and hurls them at ye. And fit an airm she's got on her! She wis three times ladies shot putt champion at the Meikle Wartle Highland Games; and twice the men's winner an a'. True, this service can be dangerous if you've ordered a lot of tinned goods, but I get my ain back by peying in small change. Cheerio!
Jimmy Hollywood, Sandilands' Most Eligible Bachelor
Being on Lockdown is a Grade A pain in the dowp if yer looking for love in 2020, let me tell ye.
As a postie, Jimmy can still get oot and aboot and chat up wifies walking their dog or oot for a jog – fae a socially responsible twa metres, o' course – but it's nae the same. Jimmy hankers for the magical chemistry fit happens fan he gets the chance tae really turn it on in a dating situation.
So Jimmy hiz taken tae trying oot different hook-up apps oan the internet. There's a new een cried 'Love Is Quarantine' – the trick is that ye dinna get tae see the person yer spikken til unless ye hit it aff in conversation first. Of course, for a child o' the 80s like Jimmy, fa grew up on Blind Date, this is a caker for the baker.
Firstly, Jimmy's chat is dynamite. So… I wiz chemistranising wi' ivery quine I started spikkin tae.
In fact, Jimmy wiz hittin it aff wi so mony lassies he nearly forgot tae ging on his mail rounds. Nae good… Jimmy needs his spondoolicks far fan Soul opens again in 2021.
But eventually, Jimmy got chatting tae this one dame fa might turn oot tae be someone special. She wiz fae Aiberdeen, Sandilands tae be more precise. A single mum. We spoke remotely for mair than an oor and had loads in common. Seems we hid mutual freends, went tae the same shops, drove the same car; it wis spooky – but just afore the big reveal Jimmy needed to brak it off 'casue his belly wis rumbling, Ma Hollywood hid forgot tae pit on my spaghetti hoops! Funny thing wis, I finds her in the kitchen on her iPad engrossed in some online dating chat wi' a mannie. Ken fits nae real? Turned oot he wis a postie an a'!
Ron Cluny, Official Council Spokesman
As the spokesman for a local authority, I know just how nerve wracking it can be when one of your elected members takes to the podium to speak. Because of course, nae all members of the council is as suave and surefooted as Barney Crockett. So I hiv developed some media advice for new members aboot to do their first press conference: Get your key message out. Dinna get drawn into a fecht, and if all else fails, tell them you're nae weel, and I'll come in and carry you oot. But even with that sage advice, councillors can still ging aff message. And it is for that reason that I carry into every presser a concealed spud gun, that I use to fire into the shins of dingbats that are running aff at the moo.
Recently, I saw President Trump's spin doctor standing ashen face as the Donald gave us the benefit of his thoughts, if that be the word, on the benefits of ingesting detergent and exposing your intimmers to strong sunlight. I thought to mysel, there's a mannie that could do with a spud gun, although I doubt there's enough tatties in the hale o America to tak doon Trump fan he's in full flow. Then I seen footage of the Americans who are protesting against life-saving social distancing measures. Evidently, the US has nae shortage o' tatties.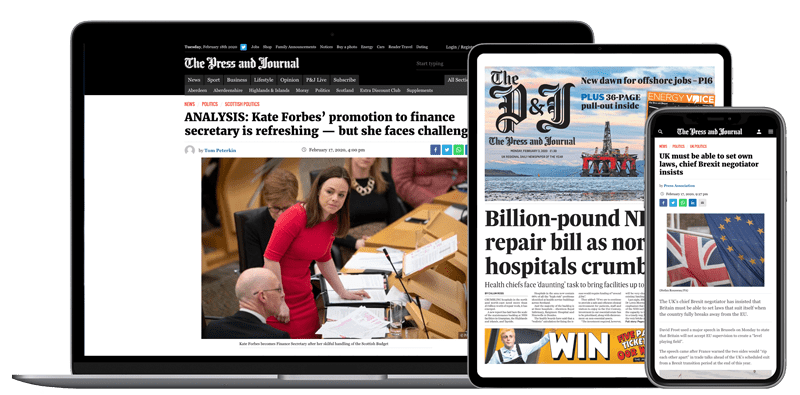 Help support quality local journalism … become a digital subscriber to The Press and Journal
For as little as £5.99 a month you can access all of our content, including Premium articles.
Subscribe