After this weekend's Bonfire Night celebrations and with Halloween done and dusted, thoughts in many households will inevitably turn to Christmas and Hogmanay preparations.
It will feel far too early for some, but others will find comfort in planning ahead, or joy in the anticipation and sparkle of the festive season. And, against a backdrop of dark winter nights and even darker international events, perhaps we could all do with some extra glitter in our lives.
At this time of year, retail businesses are put in the spotlight and the ongoing conversation around online shopping making bricks and mortar stores obsolete gains more momentum.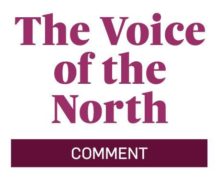 There's no denying that the speed and convenience of buying Christmas gifts online has considerably changed the way consumers act, but there is an interesting discussion to be had around the role our city and town centres can play in the run-up to December 25.
It should be said that there are still many north and north-east residents who prefer to make their purchases in person: a fact that has been underlined in recent weeks.
In Aberdeen, Union Square shopping centre is a bustling hive of activity, and the prospect of Frasers department store opening in the city (after news of the same happening in Dundee) has caused an excitable stir. In Inverness, Highland Council will waive parking fees for up to four hours at the Rose Street multi-storey car park on Saturdays during the festive season in order to incentivise those who wish to browse in real life, rather than via the internet.
Small businesses are going from strength to strength
Particularly since the beginning of the Covid pandemic, small businesses have received the support they deserve from their neighbours, and flourished as a result. It has been heartening to see an increase in pop-up shops and markets, allowing independent sellers to showcase their wares.
Advertising ahead of time is absolutely vital, but the best way for potential customers to come across such events is to stumble upon them at the heart of their own communities.
Our high streets may not be as packed with national and international chains as they once were, but there is still plenty of potential for people to visit town and city centres for a fun, festive experience and return home with some great Christmas gifts for friends and family.
Bars, restaurants, theatres, seasonal experiences (whether Santas grottos or light shows) and shops of various shapes and sizes will all be open and eager to serve over the coming months, ahead of Christmas and New Year.
Decorations alone can't transform a place into a welcoming hub of merriment, but we have every faith that people will work together to create a magical atmosphere for all to enjoy.
---
The Voice of the North is The Press & Journal's editorial stance on what we think are the most important issues of the week