Better late than never or too little, too late?
Only time will tell for UK Labour leader Sir Keir Starmer, who finally paid a long-awaited visit to Aberdeen this week.
Starmer said earlier in the year that he would travel to the north-east "this summer" to discuss the future of the energy sector. By all accounts and calendars, he missed that target by a long shot.
Still, the man who many believe will be the next prime minister of the UK arrived armed with plans and platitudes, which he laid out in an exclusive comment piece in Friday's Press and Journal.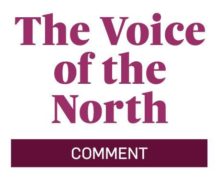 It is, of course, in Sir Keir's best interests to keep energy and business chiefs happy, and he spent time meeting key players in the Granite City.
He called Aberdeen "Scotland's energy capital", but did not commit to siting his proposed, publicly-owned company GB Energy's Scotland HQ there, even as shadow climate change minister Ed Miliband assured the city it had more than a fighting chance.
If a different location is chosen further down the line, the pair may find themselves wishing they had chosen their words more carefully.
But Starmer made a point of promising that, unlike other politicians, he is not all talk; that his words will be delivered on if he wins the next general election. You, like us at The P&J, will be watching keenly to see if this is the case.
If it is, Labour will deliver the next generation of energy jobs for Scotland, focusing on renewables. The party will also cut household bills and prioritise energy security for the UK. These would undoubtedly be excellent outcomes for north and north-east communities, as well as the rest of the country.
UK needs a PM who will roll up their sleeves and get to work
Nonetheless, it is not what Keir Starmer pledges to do in this area but how he plans to do it that is most important.
This week, he spoke of specific funding schemes and incentives designed to create and sustain roles in green energy. At the same time, concerns were being raised over potential pay discrepancies between job roles in renewable energy and in oil and gas, with workers afraid of losing out on income, as well as worry around Scotland's revised, smaller share in Europe's offshore wind and tidal potential.
As unsettling as dealing in realities rather than abstracts may feel, facing the nuts and bolts of the energy transition is vital and must not be put off any longer.
The UK requires a PM willing to get down to the nitty-gritty, and Keir Starmer is certainly claiming to be the one who will roll up his sleeves.
The clock is ticking – for Labour's Downing Street dreams, for the 215,000 people reliant on energy jobs, and for our climate. Debate, discussion, compromise but, above all, action are now needed.
---
The Voice of the North is The Press & Journal's editorial stance on what we think are the most important issues of the week