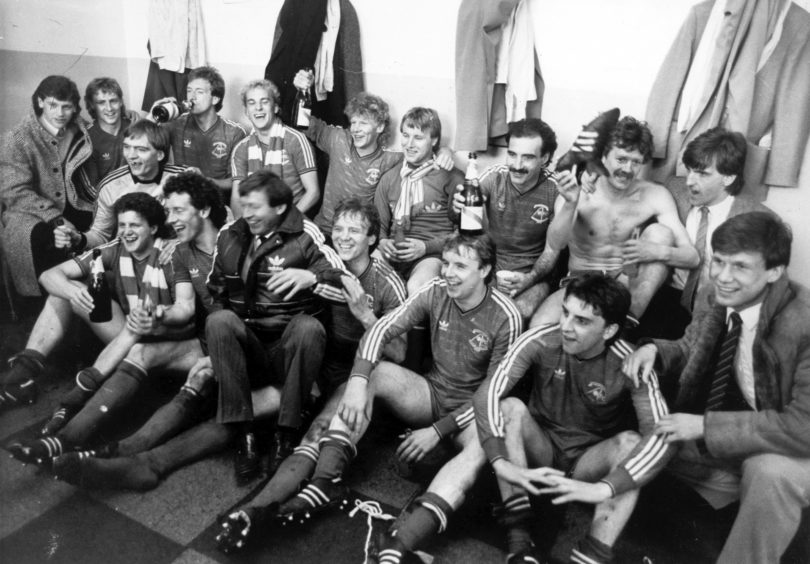 Pittodrie was a swinging place to be in the first half of the 1980s.
There was a feeling that anything was possible while Alex Ferguson was steering Aberdeen to heady pinnacles of achievement they had never scaled before, both in domestic competition and on their myriad European odysseys.
Tough-as-teak defenders
No Scottish club outwith the Old Firm has hoovered up so many plaudits and stamped their imprint on the sport as the team which Ferguson created in his mould, replete with tough-as-teak defenders, elusive and energetic midfield talents, and all manner of attacking threats who bewitched, bothered and bewildered rivals into submission.
BAFTA-winning director, Jon S Baird, was among the supporters who thrilled at the side's relentless dominance, whether in collecting championships, cups or forging indelible memories with their triumph in the European Cup Winners' Cup final against Real Madrid on that sodden night in Gothenburg in 1983.
As he told me: "We went along to matches, not just hoping to win, but expecting to win.
"And when you were a youngster, travelling from Peterhead to Aberdeen, it gave you a real buzz.
"Even now, I have never forgotten the sheer excitement and anticipation which we always felt as we walked into the stadium before kick-off."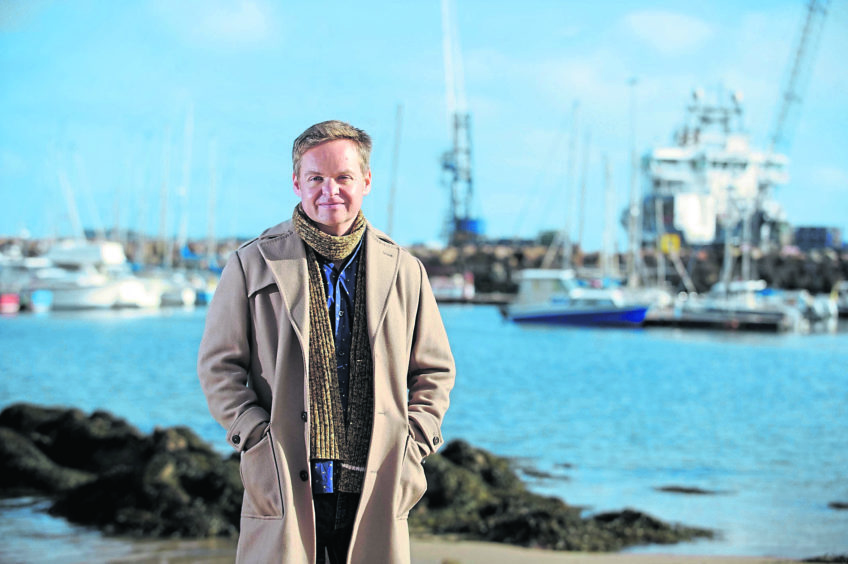 Sadly, from a Granite City perspective, this astonishing success could not be repeated in perpetuity.
The vultures were circling
Even as the gulls were flying over the Beach End while Willie Miller, Alex McLeish, Jim Leighton and co were performing heroics, the vultures were circling and ready to snap away the best components of that golden generation.
Perhaps it was inevitable the glory years wouldn't last – although Mr Baird surely isn't alone in thinking: "It always seemed strange that some of the large oil companies, firms who had done so well from the area, did not invest more in our local club."
But there again, the bandwagon showed little signs of grinding to a halt as Ferguson's men continued to impose a stranglehold, en route to lifting the 1984-85 championship by a seven-point margin and celebrating their triumph 35 years ago this week.
It wasn't all plain sailing in their campaign, but given that Aberdeen had lost the likes of Gordon Strachan and Mark McGhee – to Manchester United and Hamburg – there was still an impressive class and consistency about their performances.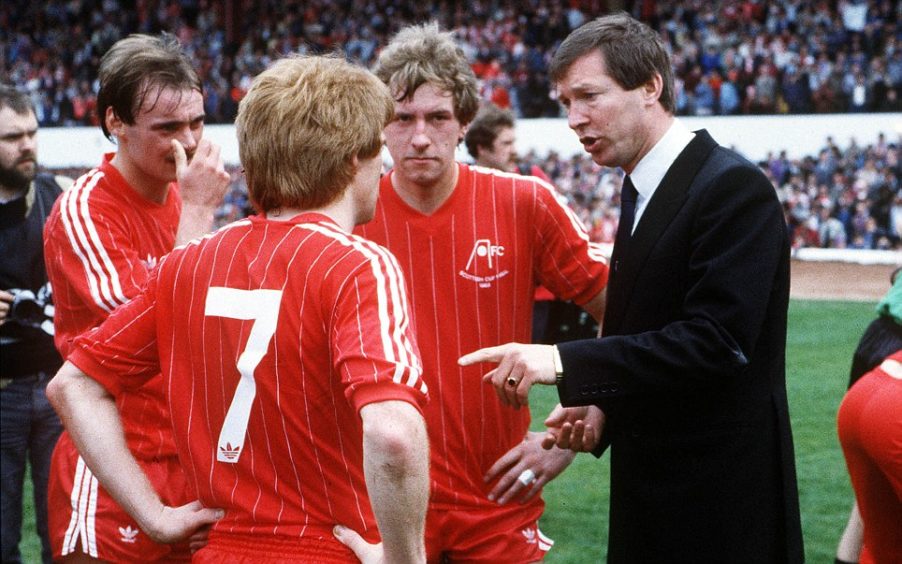 It helped, of course, that the redoubtable Miller was at the centre of their activities, masterfully motivating his charges and demonstrating the mixture of iron and velvet qualities which earned him so many international caps throughout the 80s.
The Dons needed these ingredients as they went toe-to-toe with Celtic during the 84-85 season: a battle which stretched all the way from September to May, despite Aberdeen starting well with four victories in their opening five fixtures.
It was a year when their form in the cup competitions was decidedly underwhelming, but the championship was a different matter and, even as the shadows lengthened, they built up momentum and proved they were still the number one in their homeland.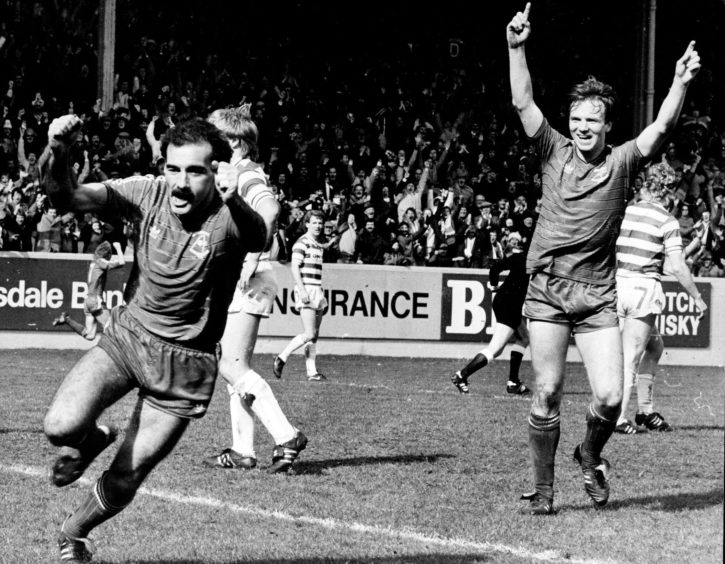 The Dons did suffer setbacks, losing twice to Jim McLean's Dundee United tangerine brigade on either side of Christmas, and although they remained top of the table with 33 points from 21 games – this was in the days of just two points for a win – they were only that margin ahead of Celtic, with both clubs chasing the spoils.
Crucial contest
However, Miller recalled how he and his colleagues rallied to the challenge exactly when it was required, gradually increasing their advantage as the prelude to facing a crucial contest with the Glasgow giants at Pittodrie on April 27.
He said: "We needed a win to be sure of the title, but even a draw would leave Celtic with scant chance of the championship, as we would have had to have lost our final two away games and they would have had to overturn a goal difference of 13.
"Fergie ensured that we were fired up for the vital clash, because he wanted to win the title at home, but the script did not go according to plan when Celtic were awarded a penalty after 40 minutes, which I did not think was at all warranted.
"I was close to the incident and I didn't consider for a moment that Billy Stark had fouled Mo Johnston, as the referee indicated.
"But regardless, Roy Aitken scored from the spot and we were required to chase the game in the second half.
"However, on the hour mark, I went up for a free kick from Ian Porteous, launched myself at the ball and out-jumped Aitken, which was no easy task, to head it in.
"There was a lot of relief inside the ground, and John Hewitt came close to claiming the winner near the end, but it finished 1-1 which meant we were champions elect."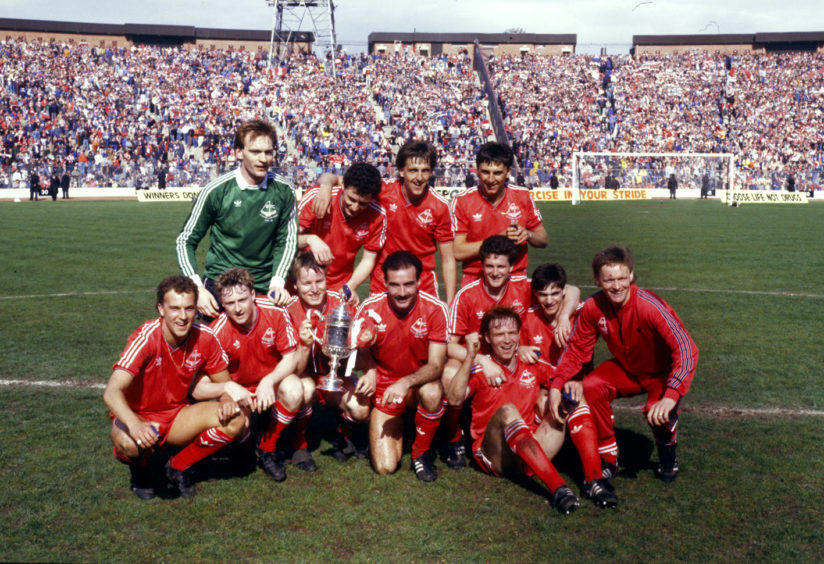 Aberdeen hadn't quite applied the coup de grace, but there wasn't any delaying of the inevitable when they journeyed down to Tynecastle to tackle Hearts on May 4.
In other years, this might have been a nerve-strewn affair, but these Pittodrie personnel were accustomed to dealing with high stakes and pressure situations and invariably thrived on them.
Important goals
As Miller recalled: "We felt the job was almost done, but there was still work to do. So we did it.
"We beat Hearts 3-0 and it was a hat-trick from Frank McDougall which put the seal on the destination of the championship.
"I thought it was fitting that big Frank should grab the glory, because he had put in some hefty contributions for us over the season and scored other important goals.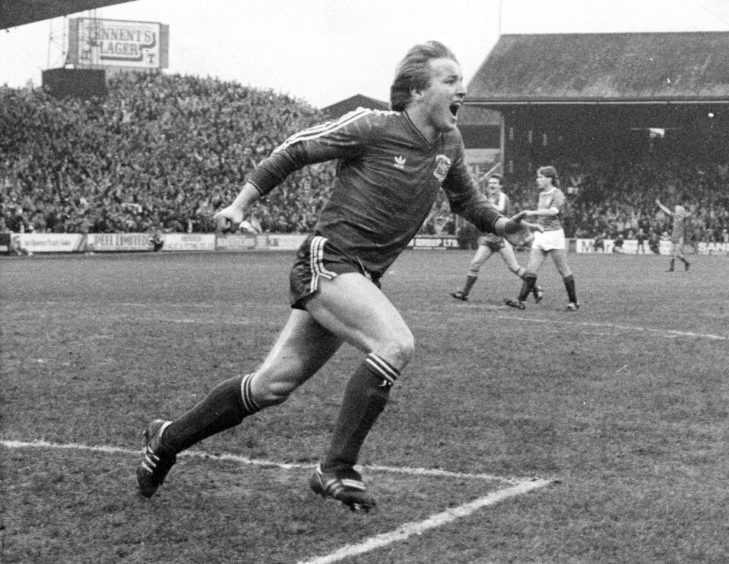 "Our last game was against Morton at Cappielow and, for the first time in my career, against my bogey team, I approached the ground wearing a big smile, for even if I finished on the losing side, it wouldn't matter, because we had the league wrapped up.
"As it turned out, we won 2-1 to set a Scottish Premier League record of 59 points from 36 games (or 86 under the current regulations).
"It was a terrific achievement, because we won 27 games, drew five and only lost four times, while we scored 89 goals and conceded just 26 in that period.
"As you can imagine, we were all delighted."
Old Firm dominance
He wasn't to know it, but that was the last time the Dons would claim the championship – for the last 35 years, it has stayed in Glasgow, on either side of the divide.
Yet nothing should detract from the magnitude of what Miller's men had recorded.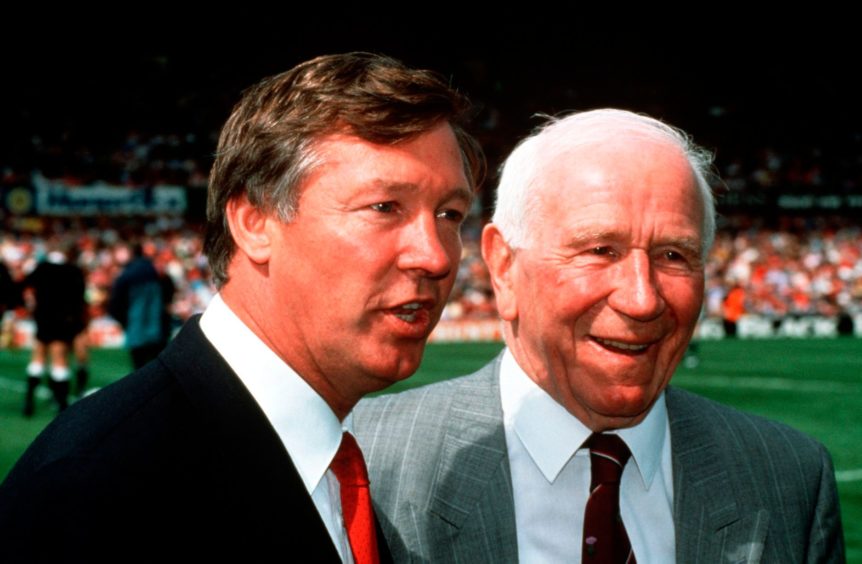 Ferguson eventually departed for Old Trafford the following year and spoke later about the huge influence of Miller and McLeish on those around them and the instant impact of McDougall, who netted no less than 24 times in his debut season with Aberdeen.
But it was a testament to all of them they enjoyed so much success.
Miller concluded: "Our first championship under Fergie in 1979-80 had been a magnificent achievement, but I still maintain that to manage to repeat the feat in 1984-85 without the services of Gordon Strachan, Mark McGhee and Doug Rougvie, and with the team in transition, was worthy of equal merit.
"It showed me that Fergie could work his magic despite changes in personnel."