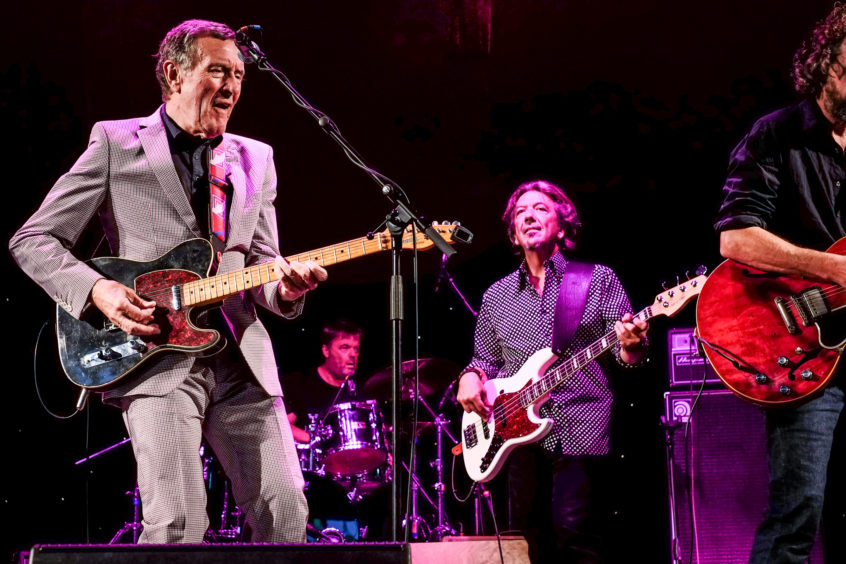 It was a record which emerged from nowhere and thrilled a generation with its pulsating beat and funky horns.
When radio stations across the United States received their copies of Pick Up the Pieces, they assumed its creators were from Tamla Motown via James Brown.
They certainly didn't imagine that the instrumental track (with a soupcon of vocals at the end) which surged to the summit of the US charts in 1975 was, in the words of Hamish Stuart, "produced by a bunch of hairy-a***d Scots".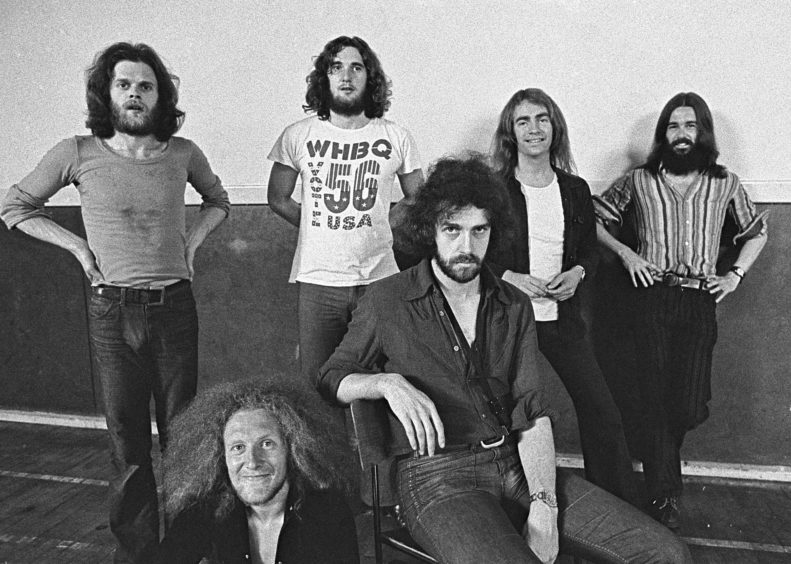 But then, the Average White Band, comprising Stuart, Alan Gorrie, Malcolm "Molly" Duncan, Onnie McIntyre, Roger Ball and Robbie McIntosh, were always happy to blaze their singular trail from the soul hotspots of…er, Dundee, Perth and Glasgow.
And even now, 45 years after they succeeded where no Scots had ever gone before, the bold Hamish still remains captivated by the remarkable story of how he and his compatriots became the darlings of black music stations across America.
Enjoyed the Average White Band documentary on Radio Scotland. Met them in Honolulu in 1975 when they were number 1 in the U.S. charts with Pick up the Pieces & I managed to patter my way backstage with my Scottish accent. Saw Roger Ball years later at Tannadice. 'Mon the Terrors

— Billy Kay (@billykayscot) May 7, 2018
He said: "I remember the day when we got the news that the single and album were both number 1 on the Billboard Chart.
"We were stationed in a mansion called MACH 2 by the water in Southampton, Long Island, which belonged to Ahmet Ertegun, the head of Atlantic Records.
"We all lived there and had a room set up with all our gear where we wrote the bulk of Cut The Cake. It was a weird moment to celebrate this success, considering that Robbie had died only five months previously. So it was a slightly hollow feeling.
Robbie McIntosh: Dundee's forgotten rockstar and founding member of Average White Band
"Where we were then was a far cry from exactly where we had been just over a year before (in 1974). We didn't have a very big budget with MCA Records for what became the White Album, but the label's press lady Karen Shearer kindly donated her home in the Hollywood Hills for us to work in.
"It was a small house, so the sleeping arrangements for a bunch of young Scottish guys were pretty chaotic.
"The living room was the biggest space, so drums and amps were set up there and the windows were covered in heavy industrial blankets to soundproof as much as possible and keep the neighbours happy.
"We were totally involved in writing and, every day, we would get up and listen to what we had done the day before, then start jamming and playing with bits of ideas.
"I specifically remember sitting having my tea and toast with the previous day's cassette playing and coming up with the chorus of Got The Love.
"A lot of what we created over the years came from jamming at sound checks and in the studio and Pick Up The Pieces is a classic example of that.
"We'd be messing around and somebody would play something which would trigger somebody into playing something else.
"The original groove was a very James Brown kind of thing and I was fiddling around trying to find something on guitar to go with what the drums and bass were doing when I hit on that staccato line which became a kind of signature.
Funk and R&B group The Average White Band, February 1975. US No.1 with 'Pick Up The Pieces' in 1974. pic.twitter.com/YAzCJhHsYu

— PictureThis Scotland (@74frankfurt) April 21, 2020
"We played the groove on one chord for a long time just solidifying it with everybody finding their best part.
"Roger Ball – one of the Dundee Horns with Molly Duncan – was staying elsewhere with a girlfriend and took a cassette away with him that night and next day came back with a horn line written and a change of chord in place.
"At that point, we steamed in and came up with the end sort of crescendo piece and we pretty much had it.
"We got into the studio shortly thereafter, but when we presented the album to MCA…well, they turned it down.
"However, just weeks later, we signed with Atlantic and Jerry Wexler wanted to record the whole album.
"We wound up in New York where we cut the final version of PUTP and we felt it needed improvement, so Robbie came up with a funkier idea on drums.
"A couple of parts changed slightly, but mine remained the same. The night we cut it was magical and we knew we had hit something, we didn't know what yet but we were all dancing ecstatically around the studio control room.
"Even our producer and mentor Arif Mardin loosened his tie and joined in the melee.
"As I said, we knew we had created something special, but nobody imagined how far reaching it would be.
"The biggest US pop programme, American Bandstand, held a dance contest every year and the majority of couples were choosing to dance to Pick Up The Pieces, so that exposure was massive for us.
"Then, as we hit the road to promote Cut The Cake, I recall waking up one Saturday morning in the Midwest and switching on the TV where there was a massive college football game about to start.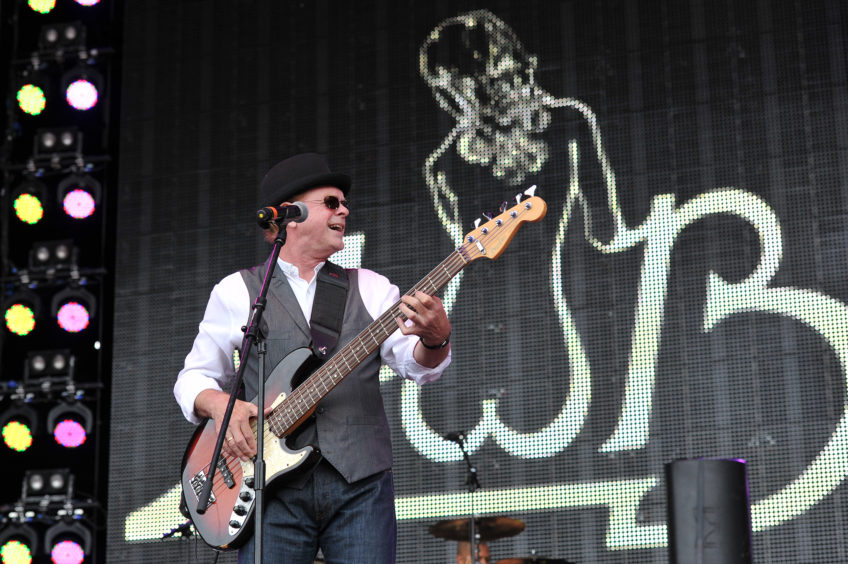 "The massed marching band was on the pitch and suddenly you had 200 kids marching up and down playing PUTP. That showed the impact the song had."
In the months ahead, the Scots were plucked into the spotlight and found themselves performing with the same musicians and singers they had idolised just a few years.
Stuart and Gorrie who were the voices on such hits as Queen of My Soul, When Will You Be Mine, Atlantic Avenue, Work To Do and Let's Go Round Again, complemented each other perfectly and the group's horn sound was as distinctive as that of their American counterparts Earth Wind and Fire.
According to Duncan, who died last October, members of the band had played together before in Scotland, but had moved to London separately and met up by chance at a Traffic concert.
They decided to jam together, at which point a friend heard them and remarked: "This is too much for the average white man"; the name which has gone down in music lore.
Yet, even after their smash hit and introduction to the jet-set lifestyle, Stuart told me AWB had no grand plan, no master strategy for global domination.
On the contrary, they kept working relentlessly and discovered, just like Gary Player in golf, that they more they worked, the luckier they became.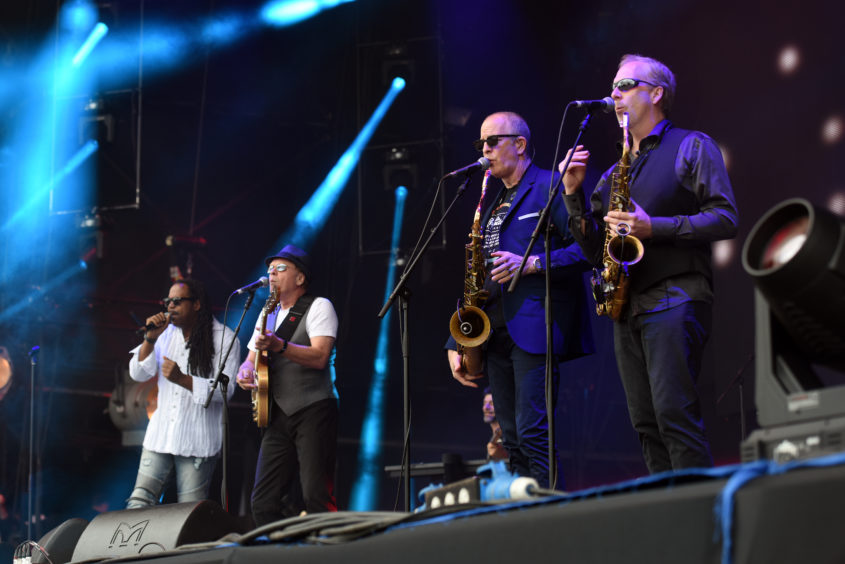 Stuart said: "We never thought about a follow up. After losing Robbie we simply had to get on with it and continue to make the best music we could.
"Cut The Cake was the next single and went Top 10. PUTP was a kind of anomaly in that historically there aren't a lot of instrumentals that are that big.
"It was huge and its memory and influence lives on, even now to 2020.
"We could never have imagined, whilst writing it in that little house, that within two years, it would put us on the world map with a number one record, appear in the movie Superman 2, be covered by Henry Mancini on his album Symphonic Soul, be covered in Brazil and elsewhere and get noticed by our hero James Brown – DOH!
"But it did and I am still proud of the way it all came together."
---
Anguish and disbelief expressed following George Floyd death
Hamish Stuart has expressed his anguish and disbelief at the "hideous" violence and protests which have erupted across the United States after the killing of George Floyd.
He told me: "It has been very saddening to see what has continued to happen increasingly over the last few years and I was deluded or naive enough to think that things had improved until these events in the last couple of weeks.
"It's understandable for people to protest against these heinous crimes, but then the provocateurs and the mob take over and the issue is overwhelmed by more violence and the voice of reason, empathy and progress is drowned out.
"Amidst all the mayhem, there have been some really humane moments which the news never covers, like a young black man taking a crate of bottled water and placing it at the feet of a group of police or National Guard.
"Then, we saw a large group of policemen kneeling in front of a group of protesters and demonstrators persuading the National Guard to put down their shields in recognition of the fact it was a peaceful protest.
"When AWB were riding high in the US back in the 70s, we were embraced wholeheartedly by the black community, invited to people's homes to eat and our audiences were very mixed race.
"It was beautiful and I thought that what we were doing might have a little more significance than just playing for people to 'get down' and that something positive was happening socially, but maybe that was a bit of naivety on my part.
"As far as the present and the future is concerned, I simply wish for reason to prevail and for positive change to come out of all this hideous, murderous situation."