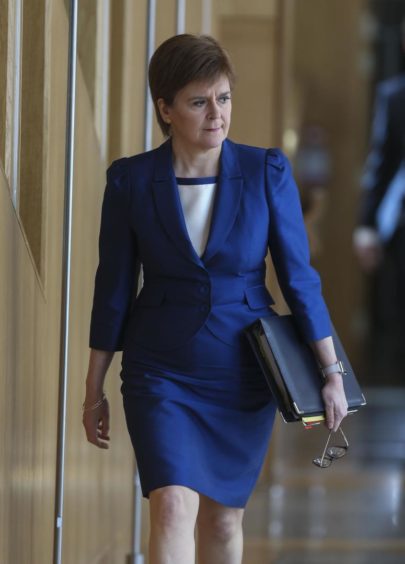 Scotland's first minister has again pledged to step up to help refugees seeking asylum.
In a letter to the Home Secretary Priti Patel, Nicola Sturgeon said Scotland is happy to  help those in need.
Ms Sturgeon highlighted the risks to human rights currently faced by asylum seekers on the Greek Islands.
More than 35,000 men, women and children have had to live for months or years in camps designed for fewer than 6,000 people.
Urging the UK government to "lead the way" in helping she also wrote "we stand ready to play our part again and urge you to take a humane and welcoming approach to the resettlement of these refugees on the Aegean Islands".
Recently boats carrying those fleeing persecution have landed on UK shores, while many of those who arrive on the Aegean Islands to seek refuge in Europe have left war torn countries such as Syria to get away from such conflicts.
The First Minister made her pledge to provide people with a safe and if needs be, permanent home after being contacted by several of her own constituents.
One of whom had spent time volunteering at the Vial refugee camp on Chios, Greece where she said she saw first-hand both appallingly overcrowded and unsanitary living conditions.
The letter to the home secretary follows a grassroots campaign started by Europe Must Act which came together to try to relocate asylum seekers from Greece.
Groups across Scotland have lobbied both councillors and MSPs to accept refugees from camps into the country.
After a motion from Green Party MSP John Finnie, 33 other members of the Scottish assembly have signed up in support of the campaign.
Rebecca Morton spokeswoman for Europe Must Act Scotland, said: "We are delighted that the first minister has responded to our calls for Scottish leaders to intervene in this matter.
"We believe the UK is duty bound to assist in the evacuation of the camps it helped construct through its membership of the EU and to reverse the hostile migration policy it continues to support by funding an aggressive, militarised border regime in the Aegean sea.
"We will now be urging MPs to put pressure on the UK government to play its part in putting an end to the humanitarian crisis at Europe's borders."