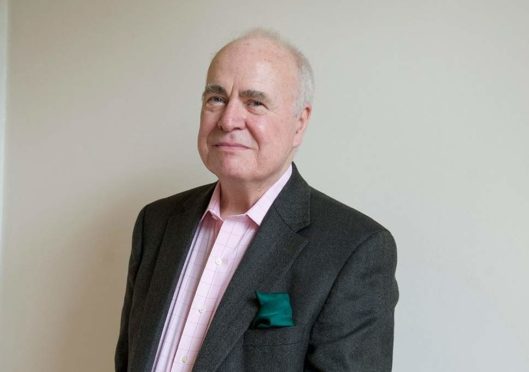 His voice was akin to Humphrey Bogart's in The Big Sleep; a gravelly drawl of dry-as-Nevada humour interspersed with a man's-gotta-do cynicism.
But Hugh McIlvanney was never cynical when it came to describing some of the most triumphant, tristesse-laden or occasionally tragic events in the history of sport throughout his distinguished, honour-strewn career as a journalist and broadcaster.
And that is why the news of his death at the age of 84 has provoked the sort of lachrymose response which the man himself would probably have detested. As he once said to an old Fleet Street colleague: "You like giant-killers. (Pause) I like giants!"
McIlvanney, born and brought up in Kilmarnock, alongside his equally exalted brother, William, was somebody who brought a forensic mind and a sublime turn of phrase to his craft and transformed so many mundane matches into pieces of sheer poetry.
He marvelled at the achievements of Jock Stein, while the latter guided Celtic to the European Cup in 1967; revelled in the exploits of Bill Shankly at Liverpool and Matt Busby at Manchester United; and was mesmerised by the prodigious talent of George Best as the latter stamped his imprint all over the Swinging Sixties.
Sometimes, phrases plucked out context can lose something in translation. But that was never the case with McIlvanney. Look at his description of Best in his pomp: "He had come in along the goal line from the corner flag in a blur of intricate deception.
"Having briskly embarrassed three or four challengers, he drove the ball high into the net with a fierce simplicity that made spectators wonder if the acuteness of the angle had been an optical illusion."
Or marvel at the poignancy of his response to Busby's death in 1994. "Greatness does not gad about, reaching for people in handfuls. It settles deliberately on a blessed few, and Matt Busby was one of them.
"If Busby had stood dressed for the pit, and somebody alongside him in the room had worn ermine, there would have been no difficulty about deciding who was special."
McIlvanney's most cherished passions were football, horse racing and boxing. But he sprinkled stardust wherever he ventured. There's an interview of his with the fabled West Indian cricketer, Viv Richards, which soars into the stratosphere, while managing to delve into the racism which Richards endured on a notorious tour of Australia.
Not were his gifts confined merely to chronicling victories and success stories. When the diminutive boxer, Johnny Own, died in 1980, in the most tragic circumstances, McIlvanney was determined to portray his demise with exactly the right words.
As he wrote: "It was boxing that gave Johnny Owen his one positive means of self-expression. Outside the ring he was an inaudible and almost invisible personality.
"Inside, he became astonishingly positive and self-assured. He seemed to be more at home there than anywhere else.
"It is his tragedy that he found himself articulate in such a dangerous language."
He was friends with Muhammad Ali, but he wasn't a sycophant when it came to criticising those he nurtured. Yet, while most of his contemporaries were content with bare details, McIlvanney's specialist subject was omniscience.
When the journalist retired in 2016, just three months before Ali's death, the former issued a heartfelt tribute to the Scot, saying: "His words were a window to the lives, the courage, the struggles and the triumphs of the great champions of his time."
He covered disasters as well, including Hillsborough in 1989 and the murder of 11 Israeli athletes, coaches and a referee at the Munich Olympics in 1972.
Yet, although he was immensely proud of his Ayrshire roots, he was never parochial or provincial in his mindset. Indeed, he was among the most fervent admirers of the fashion in which England surged to glory at the 1966 World Cup.
As he wrote, in the aftermath of the 4-2 win: "Then we were up and yelling and stamping and slapping one another as [Geoff] Hurst shot that last staggering goal.
"The sky had been overcast all afternoon, but now the clouds split and the sun glared down on the stadium. Maybe, those fellows were right when they said God was an Englishman."
It is the sort of cliche from which he would have sprinted away like Usain Bolt. But, in the case of Hugh McIlvanney, we shall not see his like again.