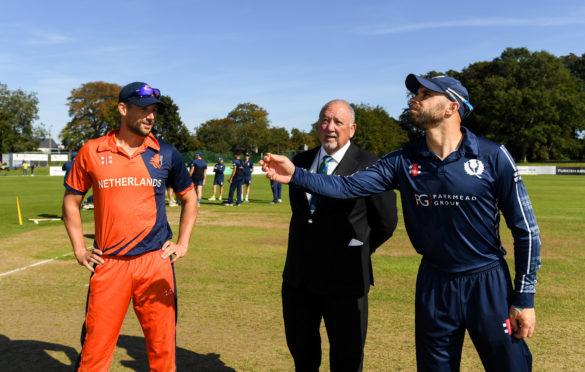 Scotland cricket captain Kyle Coetzer has no plans for next autumn's T20 World Cup in Australia to be his international swansong.
The 35-year-old Aberdonian skippered the Saltires through their recent qualifying campaign in the United Arab Emirates.
The Scots will travel to Australia next October and take on Bangladesh, the Netherlands and Namibia in their preliminary group – with the top two reaching the Super 12 stage and facing big hitters like England, Australia and India.
Coetzer has been a reliable batsman and mainstay of the team for more than a decade and is already setting his sights on the subsequent 50-overs World Cup in India in 2023.
The former Stoneywood-Dyce player said: "I still have aspirations to try to play in another 50-overs World Cup.
"But the only way that will happen is if I maintain my performances and I'm still adding enough to the group.
"I'm ready and willing when the time comes to let others take my place.
"But for the time being when I'm still doing what's expected of me and performing at a level I'm happy with then I'll hopefully still be there for another few years to come.
"I feel I can still add to the group in terms of leadership, but also with the bat in my hand," Coetzer said.
"The time will come when I step aside, and I have had thoughts about it.
"But that's because I want to keep questioning myself to make sure I'm doing everything I can and delivering for the team.
"Maybe this qualifier wasn't my best, but going back a couple of months to the games in Aberdeen in the summer I was performing the way I always have done.
"I'm not too proud to step back if I'm not performing the way I need to be.
"Whenever it is, it will be a sad day because I've been involved a long time.
"But I'll take every tournament as it comes and hopefully I can keep performing for a few years yet."
Coetzer played for Scotland in the T20 World Cup in England a decade ago and in India in 2016, as well as performing in the 50-overs equivalent in Australia and New Zealand four years ago.
He added: "I've been very fortunate to be in the position to say I've been to two T20 World Cups and a 50-overs World Cup as well as doing what I've done in the county game and winning a few trophies along the way.
"Going and playing at the top level for your country is the best thing.
"I believe the absolute pinnacle for associate nations like us is playing in 50-over World Cups.
"But that doesn't mean I don't see T20 cricket as being massively important because it is in the growth of the game.
"To go and play at another T20 World Cup will be very special.
"But we have a number of dangerous and exciting players in our ranks and there is competition for places, which includes my own. So I'm not guaranteed to go, but I hope I will be involved in the squad in a year's time."
Scotland did not find it easy to qualify for the big showpiece event Down Under.
They faced a win-or-bust play-off game against the UAE, but triumphed convincingly by 90 runs.
Coetzer reckons their place in Australia was hard-earned in trying circumstances.
He said: "Winning the qualifying tournament would have meant it ranked higher in my career.
"But on the tour we were hit with a couple of injuries and illness and difficult conditions.
"That was challenging and so was having to keep people upbeat. I wouldn't say it was one of my favourite achievements because we finished fifth.
"But it was certainly one of the hardest-earned achievements which came at the end of a convincing team effort to get through."