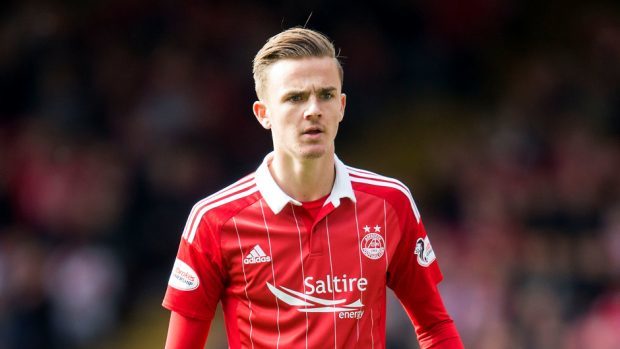 Aberdeen attacker Adam Rooney has called on referees to protect loan midfielder James Maddison.
The Dons endured a frustrating goalless draw against St Johnstone at Pittodrie on Saturday as they fell four points behind Rangers in the chase for second place.
Maddison was his side's best hope of creating a clear cut chance but the Norwich City midfielder suffered for the cause after finding himself on the receiving end of several heavy challenges.
Rooney believes officials should be doing more to protect his team-mate and said: "James is a talented player who is capable of creating something so we try to get the ball to him as much as possible.
"He's taken a number of kicks in the last couple of matches and he probably needs more protection. He has gained a reputation in the last couple of games for going down easily, but if he doesn't he is going to suffer a serious injury.
"He shifts his body and goes by a lot of people but to be fair to him he gets up and gets on with it. It must be double figures the number of fouls against him.
"There are games where its obvious the other team is taking turns in kicking him and I'm surprised there haven't been more yellow cards shown. It won't stop him though, it's part and parcel of the game for him and he handles it well."
While Maddison was Aberdeen's main threat it was a disappointing afternoon for the Dons who failed to reach the heights of their 5-1 win against Kilmarnock last Tuesday.
With the gap between second and third increasing Rooney knows it is important the Dons close the gap to a point with victory at home to Motherwell tomorrow.
He said: "There's a long way to go and we have to focus on ourselves. We've got another five games this month and there are a lot of points to play for. We'll look at where we are come January.
"Our aim is always the same, try to get as high as we can in the league. Second place is the immediate target, but if Celtic drop some points we have to make sure we are in a position to capitalise.
"The only way we can do that is by working hard and sticking together."
It may have been a frustrating afternoon for the Dons but Rooney knows the outcome could have been worse had it not been for his goalkeeper Joe Lewis.
He said: "Joe made a great save to keep out their free kick and we could have done better with headers from a couple of corners, but there wasn't much between the sides.
"It was frustrating, but we've got another game on Tuesday and we have to look forward to that one now.
"We need to be more creative in the final third but credit to St Johnstone, they made it difficult."