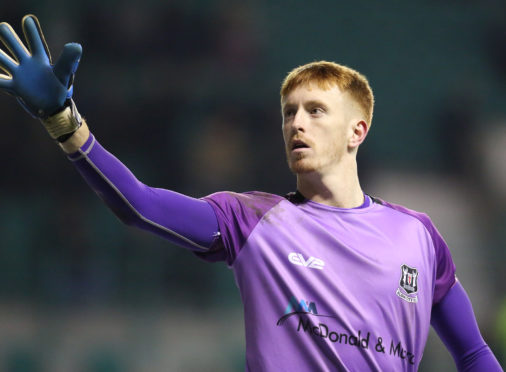 Thomas McHale made the risk to uproot himself from familiar surroundings and deposit himself 700 miles away from home.
Gone were the friends and comforts that had kept him company during his years growing up in Cornwall and here he was, in the north of Scotland, looking for a fresh start.
Some risks pay off immediately and some take time to bear fruit. But for McHale, a penalty save at Easter Road and an accomplished showing at Easter Road made the journey from one end of the British Isles to the other a worthwhile one.
He said: "My family moved up to Forres about three years ago, so I was in the situation of looking for a club and I came up here. Elgin signed me – it wasn't expected but I've learned a lot. I'll use it to the best of my ability and try bounce back from not playing many games over the last few months.
"My dad is from Scotland, so I've been up here a few times, but in terms of living in Cornwall and moving 700 miles away, it's a bit of a shock. You miss your comforts, your friends, your home, but it's one of those things you've got to do at times. You've got to take risks and they might pay off."
The 23-year-old, who left English non-league side Truro City in the summer, has taken up residence in Moray as an active schools co-ordinator, embedding himself in the local area and seeing familiar faces at work and at Borough Briggs on a Saturday afternoon.
A fervent, vocal travelling support backed the League 2 underdogs to the capital at the weekend and saw McHale, 23, do his own career prospects no harm in keeping the scoreline down against opposition three leagues above Elgin.
McHale said: "We came into the game knowing they were going to be a tough side and realistically, knew it probably wasn't going to happen for us. It's a great occasion for the club and we're really proud of everyone involved.
"I always back myself on penalties and I had a feeling when the ref blew – I felt I would save it. It was a great feeling. Two penalties in a game though, you can't save both though and the second one is a good finish. 4-0 is not a disgrace and personally I'm pleased to have played at Easter Road.
"It's very similar to last year when I played in the FA Cup against Charlton at The Valley. The stadiums and teams are very similar. But for the sheer fact it's the fourth round of the Scottish Cup, the oldest cup in the world, and getting one of the draws we wanted, it's a great day for everyone. We all put a shift in and I'm proud of the boys."
For the majority of the season, McHale has played understudy to on-loan goalkeeper Kyle Gourlay, but has found opportunities in the cup competitions. Hibernian was somewhat of a step up from the previous two rounds, against Whitehill Welfare and Stirling University, and he hopes to have laid a benchmark after a stop-start first half of the season.
He added: "In the league I've not had the run of games I would have liked so I'll have to assess that. But I don't think I did myself any harm at the weekend and you never know who is watching. Hopefully it takes me forward and I can build on it, stringing a few games together and dominate the number one shirt, like I've done for all the years I've played in goal."