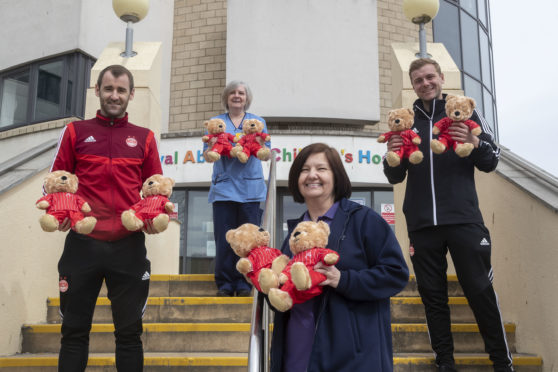 The Dons are giving away 117 souvenir cuddly bears to NHS workers and children in need across the region – to mark the 117th anniversary of the club.
As a small token of appreciation for hardworking health staff, midfielder Niall McGinn delivered the first batch of bears to Aberdeen Royal Infirmary yesterday.
Proud to be playing his part to support the city and frontline workers, he said: "It really puts things into perspective when you think of the patients and staff in the wards here – I hope our gifts go some way to lifting their spirits.
🎁 On our 117th birthday we have a new arrival to share with you all – welcome Miller the Bear.

❤️ Miller & his friends will be travelling around the city & shire to accompany deliveries with @AFCCT today as part of the #StillStandingFree campaign. pic.twitter.com/o81803VzNk

— Aberdeen FC (@AberdeenFC) April 14, 2020
"NHS staff and carers across Grampian and Scotland are doing a phenomenal job and it's so important we continue to stick to the government advice to help them slow the spread of coronavirus."
Due to the pandemic, visiting restrictions have made it difficult for families to visit their children in the Royal Aberdeen Children's Hospital.
On behalf of RACH, Ena Cromar said: "All the staff here at hospital are working hard on the frontline, and this kind donation really brought a smile to our faces – the children will be absolutely delighted."
As part of Aberdeen FC's campaign, another batch will be heading to Peterhead – along with food and other essentials for vulnerable families and children.
Willie Miller, after whom the bears have been named, said: "As the club celebrates its 117th birthday, it reminds us all that Aberdeen FC is a genuine family club, one which places community at its heart.
A massive thanks to @AFCCT and @AberdeenFC and of course @nmcginn10 nmcginn10 for surprising my sons Lleyton and Louie with a bear, they are over the moon!!You have made two kids very happy!! Thanks again #COYR #StillStandingFree pic.twitter.com/qmcT9rWyhX

— Paul Anderson (@pjbutterbean) April 14, 2020
"It's been fantastic to see the invaluable work the club and the trust have been carrying out as they provide support for some of the most vulnerable people in the community during these worrying times.
"I had the pleasure of speaking with one particular supporter this weekend who very generously donated some of her pension, whilst also renewing her season ticket, because she wanted to help the club she loves.
"Her act of generosity perfectly captures how our love of football can bring us together at times like this."
About 10 of the bears have been dotted about outside Pittodrie, Merkland Road and the Broadhill, which people are free to pick up and take home if passing.