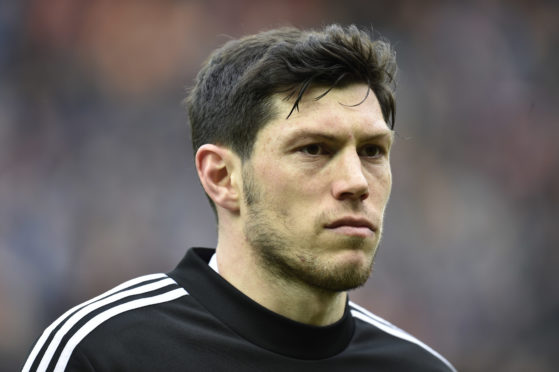 Aberdeen defender Scott McKenna is determined to make the most of his second chance at helping Scotland qualify for the Euro 2021 finals.
The Dons centre back was set to sit out the Uefa Nations League semi-final against Israel in March, and the final should Scotland have reached it, while his participation in the finals which were due to get underway in June was also in doubt due to a hamstring tear.
The near five-month shutdown of football in Scotland due to the coronavirus pandemic has given McKenna another shot at helping his country qualify for the finals, which has been rescheduled for next summer, and the Dons defender is eager to make the most of his opportunity.
He said: "There was no denying that I have been fortunate with the timing.
"I was injured around Kilmarnock away and Hibs at home and they ended up being the only games I missed.  I was expected to miss something like 15 games, including the Scotland games, but now I have a chance for the Scottish Cup semi-final and for Scotland although I know I will need to play well to give myself a chance.
"Now I have the chance I need to get myself in Steve Clarke's thoughts and that will only happen by playing well for Aberdeen."
The break in play proved a blessing in disguise but the lengthy absence has been a frustrating one for the 23 year-old and it has fuelled his desire to play a major role in his club's campaign.
He said: "There is nothing more frustrating than the injuries. Everything else you can deal with but when it comes to a Saturday and you are having to watch games there is nothing worse.
"That is when you are at your lowest.  I have spent too much time in the stands.
"If last season had finished, I would have been out four and a half months injured of the year. That is way too much time.  I also missed 10 or 11 games the season before through injuries and suspension.
"I have missed too many games and I need to be on the pitch far more this season."
McKenna's hamstring tears in both legs have forced him to adjust his training regime at Cormack Park but having featured in pre-season and played the full 90 minutes of Saturday's 1-0 defeat to Rangers at Pittodrie the Scotland international is looking ahead to the new campaign with confidence his injury woe is behind him.
He said: "I did worry about it but I have played three or four 90 minutes now and I am starting to get the confidence back.
"I will also get that fitness and sharpness as well as the weeks go on and I can get my performance levels back up."