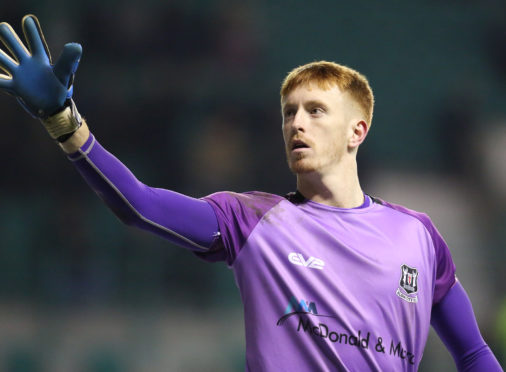 Title-winning glory with Weymouth last season has given Elgin City goalkeeper Thomas McHale a keen appetite for success at Borough Briggs this season.
Englishman McHale opted to move on loan to the Dorset outfit in January, having been understudy to Kyle Gourlay following his move to Moray from Truro City 12 months ago.
During his stint on the south coast, McHale helped the Terras win the Southern League Premier Division South title with a final day 3-0 victory over Farnborough Town, to gain promotion to the National League South.
Having now returned to Elgin to assume the role of first choice following Gourlay's departure, McHale hopes to have more cause to celebrate come the end of City's League 2 campaign.
McHale said: "I went down to Weymouth, who were in a good position come January.
"It went down to the last day of the season, and we won the league in our final game at home.
"On a personal note it was really good for that to happen. I went down there and played 20 odd games which was brilliant for me, to get that success.
"It was a really good end to the season, but I did still have it in my head that I had to come back here.
"I want to be able to finish the job that I said I would come up and start.
"It's a club that wants to achieve big things this season."
McHale, who grew up in Cornwall, took the decision to relocate to Scotland last year and took up a job as an active schools co-ordinator with Moray Council.
The 23-year-old was previously capped for England's C team which represents the country at non-league level.
With lofty ambitions for his own career, he feels featuring regularly for Elgin will help his prospects.
McHale added: "I'm in a much better place than I was last year.
"I'm enjoying my football again, I have got my family here and I'm doing the coaching again.
"On a personal note it's looking good. I'm really pleased I have been able to come in and show what I'm capable of.
"I did know it wasn't going to be too easy to be playing games, with Kyle being on loan.
"I didn't let that faze me. I went down on loan, and had a really good period, and have come back raring to go. When you are enjoying your football it's so much better.
"When it comes to it, my focus will be 100% on football. It has been for the past year, and I'm not willing to sacrifice that just yet.
"I will continue to do the coaching and community stuff when I'm not training and playing.
"But that will be my main priority this season. I always said I would give myself the opportunity to do that, I will get to 24 or 25 and see where it goes from there.
"It has been a really good few months back for me, so I'm just looking forward to what the future holds."
Elgin make the long trip to Annan Athletic, having opened their campaign with a 3-0 victory over Cowdenbeath last weekend, and McHale says spirits are high in Gavin Price's squad.
He added: "It's obviously very early in the season, so we won't get too ahead of ourselves, but off the back of the past few weeks we can be really pleased with what we have achieved so far.
"Everyone knows what we are capable of. We just need to keep the performances and results coming, but it's going to be a different test for us at Annan."