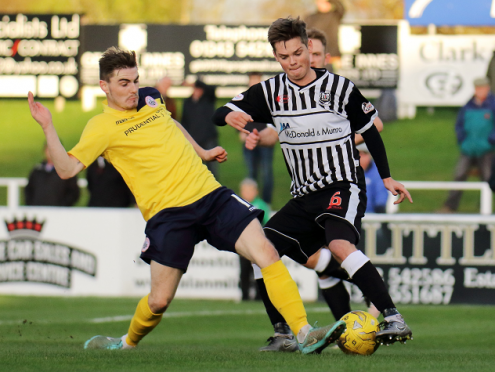 Elgin City midfielder Thomas Reilly has credited skipper Jon-Paul McGovern with giving him a new lease on life with a more advanced role.
Reilly began his career as a striker with St Mirren before joining the Black and Whites in 2015 and has been deployed in central midfield.
Without the influence of a deep-lying partner, Reilly found his attacking input restricted, netting just twice in each of his first two seasons at Borough Briggs.
But that changed with the arrival of McGovern last summer, with Reilly on target six times already this term.
Manager Gavin Price is trying to persuade McGovern, now 37, to stay beyond this summer.
Reilly said: "He has been unbelievable for me – I travel with him, so I talk to him a lot. I know how difficult it can be within that position but he has sat back and allowed me and Brian Cameron to go and get goals. I had never been a midfielder before I joined Elgin so I am still learning the position whereas he has a lot of years of experience.
"Being thrown into that position made me learn quicker as I couldn't rely on any one as we had a young team. With an experienced player like Jon-Paul we might have won the league that year. I learned it quick enough but I probably prefer playing further forward, which allows Jon-Paul to get on with the dirty work."
Elgin travel to Edinburgh City today and Reilly is determined to get his side back into the mix for the play-offs, having fallen four points adrift of fourth-placed Stenhousemuir.
The 23-year-old added: "If we don't win our games we won't be in the play-offs. Once we've done that we can look at other results and hope people do us a favour.
"We have still to play all the teams, so it's going to be close as this league always is. Everyone realises that so we have to be patient in our game.
"We don't need to force wins. We just need to play our normal game and try to pick up points. We can't really focus on must-wins.
"We need to be confident and relaxed and try to play the way we would at home.
"Our home form probably speaks for itself, so we need to try and rack up wins away.
"We've got away games against Edinburgh City and Clyde but we've already won at those two places. It's not about playing well at this stage. We would rather take the points."