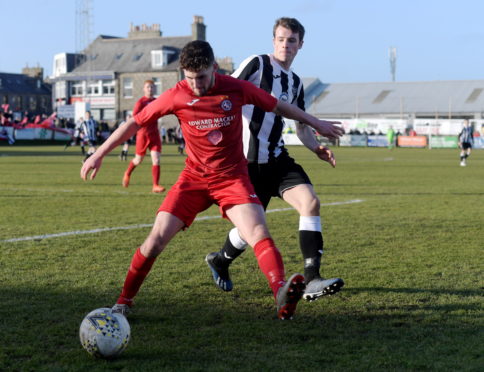 Tom Kelly is prepared to be patient with his next move after leaving Ross County.
The full-back was among a batch of youngsters let go by the Staggies this summer, in the wake of the coronavirus pandemic.
He had hoped to continue his career in Dingwall and after a phone call from Steven Ferguson and Stuart Kettlewell, acknowledges the circumstances were far from ideal.
A successful loan spell at Brora Rangers last season, in which he won the Highland League title, has given rise to the possibility of a permanent switch to the Cattachs, with Kelly still in contact with their manager Steven Mackay.
For now, however, he acknowledges patience is going to be his best ally in finding a new club.
He said: "It's not the best time to be looking for a club. I've been in regular contact with Steven Mackay at Brora, as I had an enjoyable spell there last season.
"I'm going to have to be a wee bit patient, as he (Mackay) is having to be patient himself with his budget and there's not a set date when the Highland League is going to be back.
"The attractiveness of Brora is the changing room won't let you take your foot off the gas. They're an ambitious club and were gutted not to get the opportunity to play in the play-offs.
"The key for me right now is just to stay on top of my fitness."
Kelly has continued his studies, coming to the end of his first year studying an Open University degree. He has also been helping out with his father's painting and decorating business.
He was released by County at the end of May, along with fellow reserve team players Tommy Dixon-Hodge, Jack Murray, James Wallace, Declan Hughes, Joel MacBeath, Gregor MacDonald, Jack Grant, Thomas Brady and Ruari Fraser.
Kelly added: "I was disappointed with the situated and how it ended – the circumstances weren't ideal. But the outcome was probably going to be the same at the end of the season anyway. I'm looking forward now.
"The two managers were both on the phone and they did mention it wasn't the ideal way to do it but they didn't really have any other option.
"I've got great memories I'm never going to forget, particularly the three years being full-time, and the friendships I've made. That's a positive I can definitely take."