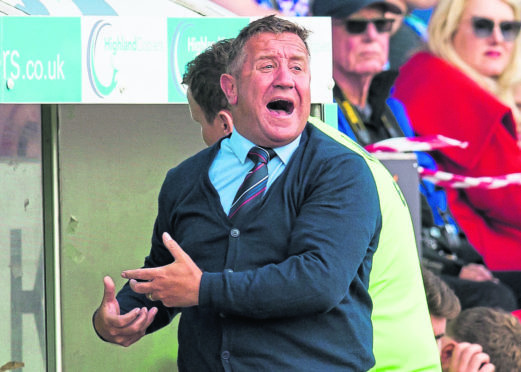 Caley Thistle and Ross County share a camaraderie off the pitch but remain fierce rivals on it – and Inverness boss John Robertson would not have it any other way.
Robertson knows the Highland derby like no other manager, having been in the dugout of both clubs in his managerial career, and while he would love nothing better than to earn the bragging rights by beating the Staggies at Caledonian Stadium tonight he knows when the final whistle blows, the respect among the clubs will remain unbroken.
The Inverness manager said: "It is a rivalry but one which I think a lot of other clubs would do well to follow at times. There has always been an edge to it. You talk about Celtic v Rangers, the Edinburgh derby or the Dundee derby and they are massive games but our one is a friendly rivalry.
"When the games come around they are played with as much passion by the players and has as much passion from the fans but we don't seem to attract the histrionics. It's very much about bragging rights.
"If we can't get to the Premiership and Ross County do I'll be the first to say well done. This area needs Premiership football and I'll be one of the first managers to congratulate them as I think it is terrific what they have done.
"We received messages from them when we reached the Scottish Cup semi-final and that shows the respect that is there between the clubs. Yes, we both want to be top dogs and the rivalry is there, but we need each other and the arrangement has worked pretty well in the last 25 years.
"If you think there is a lack of desire just look at the 120th minute of the cup-tie when Brad McKay and Michael Gardyne have a wee spat and the next minute there is 22 players, 17 coaches, everyone and their granny and the linesman in there.
"Both sets of players, managers and supporters want to win the game and it is a great game to win."
The stakes are high for the sixth and final derby of the 2018-19 season with County pushing for the title and Inverness trying to force their way into the play-offs.
Robertson knows there is plenty of incentives on offer in either camp but does not disagree with the sentiment Caley Thistle's need is greater.
He said: "This one is hugely important for both clubs.
"It is an equally massive three points for the clubs for their own agenda. Ross County have a big week with this game then a trip to Dundee United on Tuesday. They will be totally focused on us and us alone as I know how professional Stuart Kettlewell and Stevie Ferguson are but it is a massive week for Ross County.
"They deserve to be where they are as they have been consistent and have won more games than anyone. If they can continue to do what they've done they will win the title.
"For us, winning would put pressure on Dunfermline, Ayr United and Dundee United as they are not a million miles away from us but all we can do is look after ourselves. We can't dictate what other clubs do.
"All we know is that qualification for the play-offs is in our own hands and we want to keep it that way for the rest of the season.
"The play-off race is going right to the wire. I think Ross County will be within touching distance of the title if they win the next three games but for us the next two games won't guarantee we are in the play-offs or out of it.
"It could go right to the last day of the season when we face Dunfermline."
Kevin McHattie and Tom Walsh return to the Inverness squad after missing Saturday's win at Queen of the South.