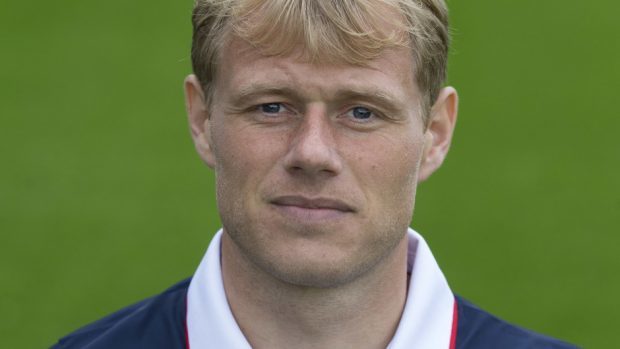 Ross County's Jay McEveley may have only recently formed a central defensive partnership with Andrew Davies, but knew exactly what he was in for after first encountering him in his teenage years.
McEveley, who began the campaign at left back, has been drafted into the heart of defence in place of captain Paul Quinn, who has been out for more than a month with a hamstring injury.
The 31-year-old began his career with hometown club Everton where he played in the youth ranks until joining Blackburn Rovers in 2002, which coincided with Davies' time as a youngster at Middlesbrough.
McEveley believes Davies still displays the bravery that made him a standout in his younger days and said: "I've played against Andrew loads of times. When we were kids he was at Middlesbrough, I was at Everton and then I went on at Blackburn. I've known him for years and he's always been the same.
"He puts his head in where he shouldn't sometimes, but that's Andrew.
"We 100% want him in our corner if we're in for a competitive game, but also when we're on top in a game just to be organised and keep the pressure on the opposition. He's brilliant at that.
"When he moved to Scotland I wondered what he was doing. It was a surprise because he was playing at Bradford and I thought he would stay in England. Now I've come up I can see why he did it. He's forever talking to me during the game and he's a great partner to have.
"We all know he will put his body on the line. It's good having someone like that next to me. I like to talk, I'm organised, but if I've got someone else doing that alongside me getting the team into shape when we are defending it's a big help.
"Andrew has played at a high level so he's used to it and he's an important part of what we're trying to do."
County are on an unbeaten run of four matches, which followed a run of four defeats from five during October.
McEveley says recent results have lifted the mood at Victoria Park, and he added: "Looking across the season we do have bad spells. Maybe that was ours.
"To come out the other side and do as we have been doing shows the character of the players.
"We could have easily been heads down and in a dog fight all year but we've turned a corner.
"I know it's still tight, we are still a couple of points off the bottom, but we are looking up not looking down.
"We've got the confidence and we know exactly what we're doing.
"Everything seems to be coming together."