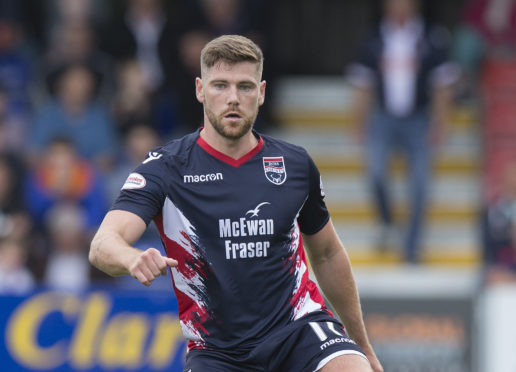 Ross County midfielder Iain Vigurs' season is in doubt after he suffered a fresh setback in his recovery from a foot injury.
Vigurs has made just 17 appearances since rejoining the Staggies from Caley Thistle last summer, and has not featured since November due to the injury.
Despite the 30-year-old appearing to be winning his fitness battle when he played 45 minutes in a reserve fixture against Kilmarnock earlier this month, the problem has continued to persist, with Vigurs continuing to feel pain when he strikes the ball.
County co-manager Steven Ferguson insists the club have done all in their power to aid Vigurs' recovery and says time is now the best healer for the Aberdeen-born player, with only eight matches remaining this season.
Ferguson said: "Iain's one is so frustrating. Every time we think we are seeing a little light at the end of the tunnel, that light seems to go out one way or another.
"He has had another setback, so it's only about time for Iain in trying to get over this final bit of pain that he keeps getting when he's kicking the ball.
"We had him back on the pitch, and now he's off the pitch and able to do partial stuff.
"It's just that final bit of being able to actually strike the ball. The soft touches are fine, but the actual striking of the ball is the problem.
"I think it all boils down to where the crack is. If it was somewhere else it would be OK, but it's in the exact point in the foot where you don't want it to be.
"Regarding what a football club can do for him, we are trying absolutely everything. He has seen everybody. There have been scans, ultrasounds, he has had injections and all sorts of things to try and get over it.
"He's probably at that stage where it's about 75% healed, but it's just this last 25% now.
"It's just the frustration of him being almost there, more so for Iain than anybody else."
Defenders Callum Morris and Liam Fontaine will not feature until next season, however Ferguson says Sean Kelly and Ross Draper could return for this weekend's Championship trip to Alloa Athletic, with the Staggies two points clear of Dundee United at the top of the table with two games in hand.
Ferguson praised the Dingwall squad for coping with the absence of so many key players in recent weeks, adding: "It shows the strength of the group we have got, and the character of the players within that group, that when characters like Ross are not available we can still turn out performances and results.
"It's a testament to the whole squad."
English defender Callum Semple's Scotiish FA hearing for betting on football matches has been pushed back a fortnight to Thursday, April 11. Semple was earlier this month hit with a notice of complaint accused of making bets between the period of July 1 and March 1, in which he also played for Queen of the South on loan from Sheffield United.