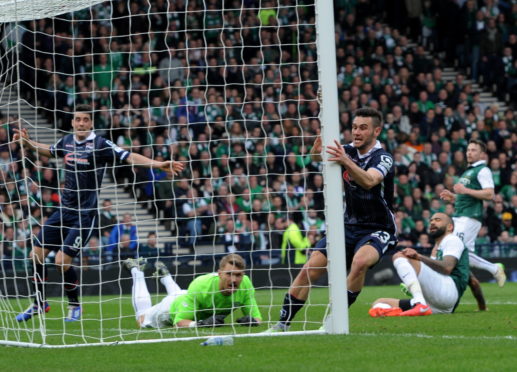 Alex Schalk was afforded the opportunity to relive his moment of League Cup final glory in the company of his family just hours after his momentous strike.
The Dutchman came up with the late goal to defeat Hibs 2-1 in the 2016 final at Hampden Park, securing the Staggies' first major silverware.
The forward, who had joined the Staggies earlier that season in his first move outwith Holland, celebrated the victory with a large group of family and friends who had travelled from his homeland.
After their high spirits caught the eye of a waiter in a Glasgow restaurant, highlights of Schalk's winner happened to be replayed on a television screen, prompting a jubilant reaction from the Schalk party.

Schalk said: "I stayed in Glasgow because all my family had booked hotels – I had about 16 people over.
"I celebrated with my family – we went for dinner at a Spanish tapas bar. The waiter came up to me and asked if we were celebrating something, as it was obviously a big table and my family was drinking, so they were loud.
"One of my friends turned around to the television and told the waiter to watch as the highlights of the final were on the screen at that moment.
"He saw me scoring the winning goal so he gave us a bottle of champagne for free.
"That was a great night."
Schalk left County in 2018 to join Swiss outfit Servette, who he helped guide to promotion to the top flight last season.
The 26-year-old still regards his close-range cup final winner for the Staggies as the highlight of his career, adding: "Normally, I would never take my top off, but it was the winning goal in a cup final.
"County had about 8,000 people there which was fabulous, it was a great moment.
"I really felt the love that was missing at that point in my career – from the fans, the club and the manager.
"It was a great feeling and it still is – it will never go away. It is the best moment in my career so far. On first-team level it was my first silverware."
Schalk's goal came only months after he had joined County following his departure from hometown club NAC Breda, and the former Dutch under-21 internationalist admits it took him time to adapt to Scottish football after Jim McIntyre had persuaded him to make the move.
He added: "I had a difficult start. I was in Holland and I wasn't playing, and when I was playing it was on the left wing which is not really me. I terminated my contract in Holland and went looking for another club, and McIntyre gave me a chance to come in.
"From December, I started playing, and it came together in the second half of the season, with the semi-final, the final and reaching the top six.
"When we beat Celtic 3-1 in the semi final, it was already a highlight – maybe my best game for County. Every tactical plan we went over just worked out – it was like a puzzle that all came together.
"The final wasn't a great game. I don't think anybody was playing really good, so it was just all about character – that's one thing I really learned in Scotland.
"There was obviously the highlight of scoring the winner in the last seconds of the game."