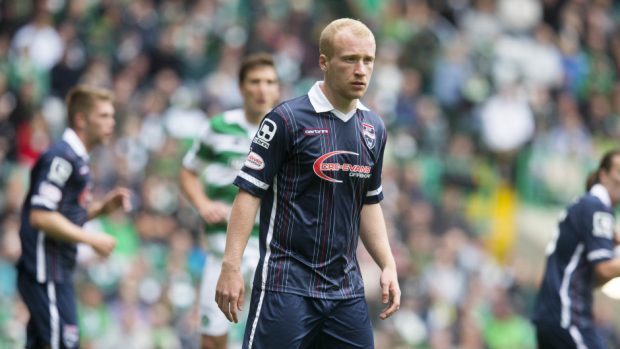 Ross County forward Liam Boyce is not letting his lack of goals affect his confidence, insisting he has taken satisfaction in helping others score from the deeper role he has occupied in the Staggies' last two games.
Northern Ireland international Boyce was the only attacker who did not score in County's disappointing Betfred Cup group campaign, with Brian Graham ending it as top scorer on six goals, Alex Schalk scoring three times and Craig Curran also on target twice in Saturday's 7-0 win against Cove Rangers.
Boyce was County's top scorer last season with 20 goals, but having been deployed in behind the front two pairing of Schalk and Graham in recent games against Alloa and Cove, the 25-year-old claims he is happy to contribute to the team in a different way.
He said: "I've really been enjoying it. I'm getting on the ball with plenty options with the two lads up front.
"I can get the ball and play 1-2s and pick up space – I have a bit of time to think about my options. It's just good I've been entrusted with that position and I think I've been doing all right.
"I missed two chances on Saturday and should have been off the mark but I won't let it play on my mind. I'll just keep doing what I'm doing and the chances will fall for me.
"On Saturday all the forwards scored and they all did well. That's good for us going into the new season. At this stage, we just want points on the board so any way I can help the team is brilliant."
Boyce's campaign last year was disrupted by a broken hand suffered in December, with the former Werder Bremen player enduring a difficult second half of the season, netting just three goals after returning in January.
Boyce is aiming to rediscover the form he showed in the opening months of last season, adding: "Last year was my first proper full season here, or at least the first pre-season when I went in fully fit. The year before I had a wee injury in my knee and missed most of the running.
"I came in flying through the first half of the campaign. But after the injury, I struggled to get back up to the match sharpness I needed. I stayed fit, so I just couldn't get the match sharpness right.
"I scored two in the last two games, so it was a good way to end. But hopefully I can do it for the full season this year.
"I've looked after myself well since I've been at Ross County and I've been fit but it is the match sharpness side that is all-important to me in and around the box.
"When I'm scoring goals I don't seem to think about it. But when I'm not scoring, I am hesitating and trying to make sure it's a goal. Sometimes it doesn't fall for me."