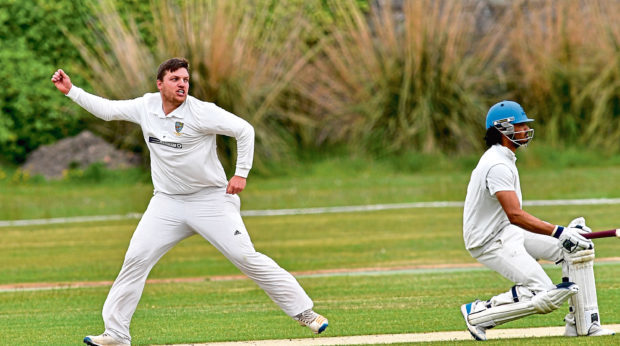 Aberdeenshire vice-captain Kenny Reid has urged his team-mates to banish all thoughts of their collapse at Royal High Corstorphine last weekend.
Shire endured their toughest day of the season as they were skittled for 81 in just 33 overs in a 76-run defeat.
With Shire travelling to second-bottom Stewart's-Melville tomorrow, wicketkeeper Reid is determined not to dwell on last week's poor result.
He said: "If I could answer what went wrong I'd be coaching at the highest level. It was just one of those days. I won the coin toss and because I wasn't sure how the pitch was going to play I decided to field first. It was dry and we were not sure whether it would be bouncy of if the ball would stay low. It was turning square and their two spinners bowled really well.
"We were a young side and I don't know if any of us had played on a pitch that spins that much before. When conditions are like that gameplans go out the window and I told the players in the dressing-room after the game to forget about it and move on.
"It was the worst pitch I've played on in my career in the National League. It was a lottery and we lost but there's nothing to be gained in dwelling on it."
Shire are boosted by the surprise return of captain Chris Venske after the batsman's suspected torn quad proved not as bad as first feared.
Reid said: "When the injury happened it bruised up really quickly and the Scotland physio who had a look at Venske feared it was a tear as he had no strength in his leg at all.
"Fortunately, it has settled down quickly and he was back at training on Tuesday. He says he will be fit to bat on Saturday. It will be great to have him back again. He was coming into a bit of form with the bat before the injury struck, so hopefully he can carry on where he left off this weekend."
Craig Knight, who had a torn leg muscle, is also set to return, while teenage bowlers Nathan Elliott and Lewis Munro retain their place in the side.
Reid said: "We beat Stewart's-Melville here earlier in the season but they beat us at their place last season and we feel we have a point to prove."