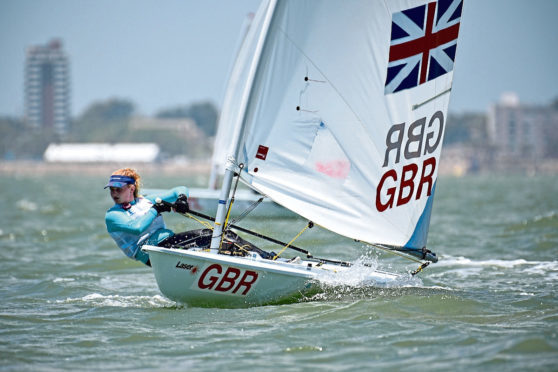 She is the Scottish youngster who took the windsurfing world by storm this month.
But Islay Watson is adamant her journey to the summit of her sport has only just started as she pursues the dream of becoming a full-time sailor.
The 18-year-old from Aviemore went into the penultimate day of racing at the five-day regatta in Corpus Christi, Texas, in third place.
Yet, a trio of victories saw her rocket into an unassailable lead in the girls' RS:X fleet, propelling her to a remarkable success.
Even after returning to Scotland this week, the teenager was still on cloud nine as she talked about the event and how she learned she was youth world champion from her coach, Connor Bainbridge.
She said: "It was such an honour to even be selected to compete in the event, never mind come away with a gold medal, so I am unbelievably proud to have gained this success as part of Team GB.
"Through the last two years, there have definitely been ups and downs, while I have continued to push myself forward, but it has all been worth it.
"It was a bit of a blur at the end. I came up to our support boat and Connor told me I had won, but I didn't believe him.
"Yet, when I got back to the shore, people kept coming up and congratulating me and when I finally realised what had happened, I was excited."
Watson's story began several years ago when she was offered the chance to try windsurfing at her local watersports venue, Loch Insh Outdoor Centre.
The bug bit and her development has happened rapidly since these early days under the guidance of her original coach – who just happens to be called Johnny Freshwater.
She explained: "I instantly loved it and I joined the local under-15 team there, the Loch Insh Monsters.
"That is where this journey started. Johnny and the other awesome coaches at the facility really inspired me to take windsurfing seriously.
"That is one of the things I am most grateful for – through all my time racing, I have had coaches who have helped me get to where I am."
The youth world championship is widely considered to be the pinnacle for precocious surf aces and competitors often go on to launch Olympic campaigns.
Some of Britain's best-known-sailors – including gold medallists Sir Ben Ainslie and Iain Percy – thrived in this environment and that proved the catalyst for their exploits on the global stage.
Therefore, Watson appreciates she is among some pretty exalted company.
She said: "It was an amazing week. I learned so much. But I know I have a busy summer in front of me and there be won't much time to relax in the months ahead.
"I am going to Latvia for the Techno Plus Worlds at the beginning of August and then to Poland for the European championships.
"Then, there are the Youth Olympics in Buenos Aires in October."
Watson will probably have a better idea of where she stands at the climax of this hectic schedule. But nothing seems to faze her and even her rivals were impressed by the potent combination of strength, steel and stamina she displayed throughout her rigours in Texas.
She added: "My ambition is to become a full-time sailor representing Britain. I just have to keep learning. This is a competitive sport so you have to learn."
In the past, windsurfing has often been associated as a pastime dominated by the Americans and Australians. Think of the Beach Boys and the traditional sound of summer.
But the times are changing and Watson's feats have shown that she can produce good vibrations of her own in the future.