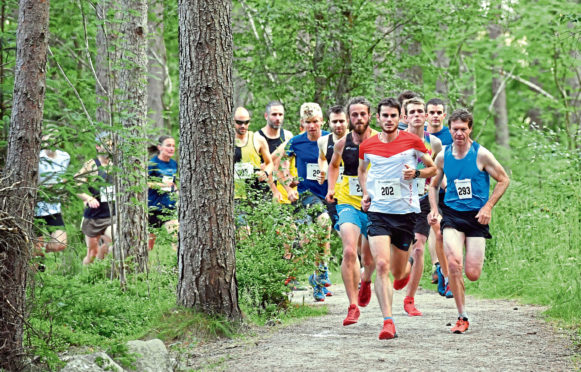 Banchory's Robbie Simpson ripped apart the course record when winning the Bennachie 50k ultra trail race.
The Deeside athlete, who is one of the world's top mountain runners, powered over the testing course in 3:45:56 to finish well ahead of Dee 33-mile race champion Jason Kelly (Metro Aberdeen), who took second position in 4:01:52.
It came on a day when four men finished inside the old standard of 4:22:31 set by Metro Aberdeen's Kyle Greig in the inaugural event last year. Aberdeen runners Allan Christie (4:12:51) and Jonathan Gamble (4:12:53) were also inside the old record.
Helge Hansen (Muir of Ord) won the over-40's prize in 4:40:31, while David Naughton (Deveron Harriers) was first over-50 in 5:08:12.
Simpson said: "The race went well. I took the lead right from the start and had maybe a 20 to 30-second lead after the first mile. It was good to be able to go out and run at my own rhythm.
"I was in the final wave of runners to be set off, which meant I was always catching people as I moved through the field, so that made it more interesting.
"The course was good and I really enjoyed the hilly parts where I seemed to be running better than on the flat. Some of the trails on the tops were very muddy, which made it tough at times, but that at least made it softer on the legs.
"I had no real issues other than feeling a bit sick towards the end with all the gels I was taking.
"That's the worst part of the whole thing, having to take all that sugar to keep fuelled up."
Simpson was pleased to break the record, but feels the time could be lowered a little more if underfoot conditions were better.
He said: "If it was drier I think it could be done a few minutes quicker, maybe even closer to 3:30. There was one descent early on which was just a massive slick of mud between gorse bushes, so I had to jog that part very slowly.
"I also lost about a minute when I stopped at a junction as I wasn't sure which way to go. After chatting to a few others, I chose the right way."
Runner-up Kelly, who had also finished second behind Simpson in last month's Lairig Ghru race, was satisfied with his performance.
He said: "I'm doing the Speyside Way 60k race next month which is my main goal for the year, so I had one eye on that. Robbie was out of sight after two miles, so I just concentrated on my own run.
"I wanted to come out of this race feeling that I'd run well, but without being totally broken, and I feel I've done that.
"My other target was to get inside last year's course record and I've done that by quite a big margin."
Meryl Cooper takes close to 25 minutes off women's mark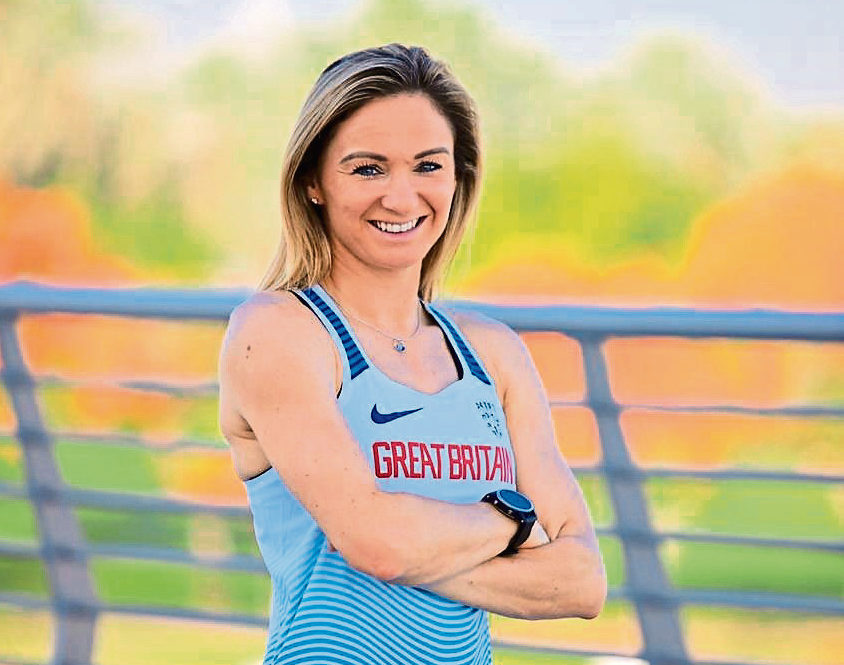 Meryl Cooper achieved all the targets she set for herself when winning the women's division of the Bennachie 50k race in a record time of 4:29:12.
The Oldmeldrum athlete finished sixth overall from a field of 110 and scythed more than 24 minutes off the previous best time set by Metro Aberdeen's Siobhan Killingbeck in 2019.
Emma Murray was runner-up for the second year in a row, but the JS Kintore club member's time of 4:55:37 was almost 30 minutes quicker than in 2019.
Deeside's Sam Rendall, the Cateran trail race champion, won the 40-49 age group prize when finishing third in 5:27:48.
Stonehaven's Louise Kelly, whose son Jason was runner-up in the men's race, won the over-50's award in 5:36:58
The expected challenge from Dunblane-based Fanni Gyurko never materialised as the Hungarian athlete, winner of September's Lairig Ghru mountain marathon, was nursing an injury and decided not to take part.
Cooper said: "I am really pleased. I had A,B and C goals for the race.
"The top one was, as always, to try to win.
"The second was to get the record and, the final one, if I wasn't having a good day, was to complete the course in under five hours.
"So it was great to get these.
"It was just so good to be able to be racing at Bennachie and to do a proper ultra there. The organisation was very slick and everyone felt very safe.
"It has been so long since I had a race that doubts begin to creep into your mind about whether you still have the speed.
"So it was good to find out exactly where I'm at. And I feel that my time is a respectable one for the course."