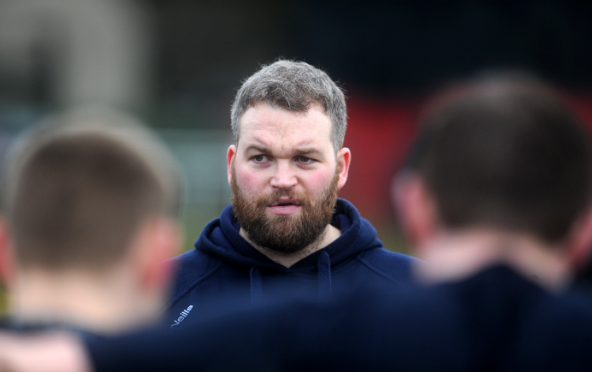 Aberdeenshire have been forced to forfeit this weekend's National 2 fixture against Peebles following the collapse of their collaboration with Aberdeen Grammar.
Head coach Craig Parslow admitted he is unsure if the Woodside club will be able to raise a team for next week's home match against West of Scotland.
The Shire players were informed before last week's 71-28 defeat by Howe of Fife that the collaboration with their city counterparts at Rubislaw had ended.
But Shire's season has been thrown into turmoil with several key players opting to remain at Aberdeen Grammar, including Greig Ryan, Will Alton, Nathan Clough, Nat Coe, Ewan Stewart, Andrew Cook and Liam Buchan.
Brad Fraser and Nikki Fraser have returned to Ellon, Carne Green and Mike McKeane have moved to Biggar, scrum-half Scott Simpson has stopped playing rugby, while Paul Paxton is set to move to Amsterdam.
Parslow said: "The collaboration ending has had huge consequences on the club.
"We won't be fielding our first team or our second XV this weekend and, in the longer term, it is looking doubtful we will be able to raise a team.
"We have players who have decided to play for Aberdeen Grammar in the knowledge they will more than likely be playing Caledonia 2.
"They are happy to do that rather than play National 2 rugby.
"At a push we had 10 players available for this week's match against Peebles but we didn't have enough front row players.
"The breakdown of players from Aberdeen Grammar who don't want to play for Aberdeenshire has had a massive impact.
"The Aberdeen Grammar players didn't want performance rugby.
"Only three Grammar players wanted the collaboration to go ahead as opposed to 20 players from Aberdeenshire.
"The rest of the Aberdeen Grammar players wanted to play in Caledonia 2 or National 1.
"This won't just have an impact on the club, it will have a major impact on rugby in the city."
Parslow says the club is stuck in a hiatus as it searches for players – but he insists he won't raid fellow north-east clubs for players.
He added: "We have lost a whole team. We have been decimated.
"We were expecting an influx of players from the universities like we usually get but we have had none.
"It is a real challenge.
"I don't want to do to other clubs want Aberdeen Grammar has done to us and take players from opposition clubs. That would just leave a bad taste.
"I have had a chat with Sam Mountain at Ellon and asked him if he had any players who would be interested. I grew up through Ellon so I don't want to do anything wrong by them.
"At the moment we just don't have enough players. I have no idea if we will be able to play next weekend.
"We have players who are willing to able to play at the Caledonia 3 level but they can't commit to training.
"They are guys in their late 20s, 30s, 40s and even 50s who have done their hard yards and now want to enjoy their recreational rugby.
"We don't have enough players to commit at the National 2 level and because of that we can't give these guys the recreational rugby that they want.
"The players who we thought would stand by us haven't done so.
"They are choosing to play at a lower standard. They would rather thump Shetland 88-3 rather than work hard in National 2.
"They are going to Aberdeen Grammar in the hope their first-team players get injured and then they will move up from Caledonia 2 to National 1.
"This was everything we didn't want to happen."