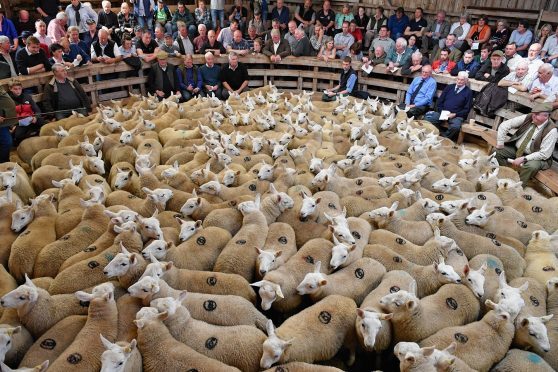 Rural Economy Secretary Fergus Ewing has pledged to increase the amount of funding available to new entrants and young farmers.
Addressing an audience of more than 100 youngsters at a 'New Entrants to Farming Gathering' at Perth Racecourse yesterday, Mr Ewing admitted that the government's original £8million budget for its young farmer and new entrant start-up grant schemes was unlikely to be enough.
He said government had already committed £7million in support through the schemes to around 120 farmers.
"Round three applications are still being assessed. There is no doubt that they have the potential to bust the original budget of £8million," added Mr Ewing.
"We are determined to provide extra funding and I very much hope to have news about this fairly soon. I would ask you to bear with us for a short period. It's clear that there is a greater appetite [for support] that we were able to satisfy with the original budget."
Mr Ewing said government would also soon be revealing details of opportunities for new entrants.
This follows on from the establishment of the Farming Opportunities for New Entrants programme last year, which sets out to increase the amount of public land available for new entrant farmers.
Chaired by Lantra Scotland national chairman Henry Graham, the group has identified a number of small units which will be made available for lease in the future.
Mr Ewing said: "Land owned by Forestry Enterprise Scotland, Scottish Natural Heritage, Scottish Water and Orkney Islands Council is being considered and there will be news about that in the coming months."
He said the group was also engaging with private landowners and estates to "persuade and encourage" them to make more land available to rent.
NFU Scotland regional manager for the north-east, Lorna Paterson, said ongoing rhetoric surrounding the Absolute Right To Buy (ARTB) was deterring private landowners and owner-occupiers from creating land letting opportunities.
She called on Mr Ewing to create a "far more sensible culture" by getting rid of the threat of ARTB.
Mr Ewing said the debate over ARTB was unlikely to go away, however there were no plans to introduce such legislation during the current parliamentary term.
He said: There is of course a right to protect property rights under the European Convention of Human Rights which would, I think, create an impediment to anyone who would set to implement the ARTB.
"I have no plans to introduce such a measure."