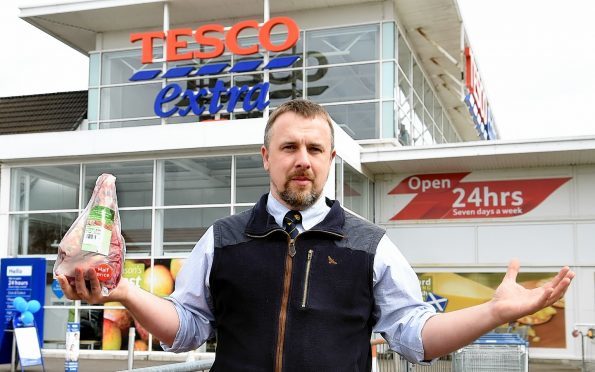 The National Sheep Association's Scottish chairman visited a Tesco store in Aberdeen yesterday to question management over the stocking of foreign lamb under a banner promoting Scottish produce.
John Fyall, who farms at Sittyton Farm, near Newmachar, told employees at Tesco's Danestone store that he thought a sign stating 'The best Scottish lamb in season' above shelves with New Zealand and British origin lamb was "misleading".
He said the shelves under the banner were stocking 37 packets of British lamb, 57 packets of New Zealand lamb and 24 packets of Scottish lamb. No roasting leg joints, which were on promotion at £5 a kilo were found under the banner, however 62 were witnessed elsewhere in the shop and every joint had been sourced from New Zealand.
Mr Fyall told staff management that he wanted all lamb stocked under the banner to be sourced from Scotland.
"We have worked very hard to create a Scottish brand and the quality assurance in Scotland is next to none," Mr Fyall told staff.
"It's damn sore to see that message being used to promote other lamb."
Speaking outside the shop, Mr Fyall said he would be raising the issue with trading standards as he believed Tesco was in breach Consumer Protection from Unfair Trading Regulations 2008 legislation.
The legislation states that a commercial practice is misleading if it 'causes or is likely to cause the average consumer to take a transactional decision he would not have taken otherwise' or if marketing of a product 'creates confusion'.
Mr Fyall said he believed both the banner promoting Scottish lamb and the stocking of Scotch Lamb cuts at "eye-level" would lead consumers to believe they were picking up Scottish lamb roasting joints from that section of the shop.
He said the problem was not confined to the Danestone store and reports had emerged of similar marketing methods in other Tesco stores across Scotland.
Earlier this week NFU Scotland reported seeing 100 packs of New Zealand lamb under the same 'The best Scottish lamb in season' banner in Tesco's Perth store.
The Forfar store was also found yesterday to be stocking a mixture of New Zealand, British and Scottish origin lamb beside promotional material stating 'Working with over 400 Scottish farmers to bring you locally sourced lamb".
A Tesco spokesman said the retailer clearly labelled all its lamb products with country of origin information.
He said: "We are proud supporters of the Scottish lamb industry and we know lamb is an important product to our customers. They tell us they want great price, quality and availability all year round and we always offer a range of quality lamb products, including Scottish lamb across our everyday, counters and organic ranges."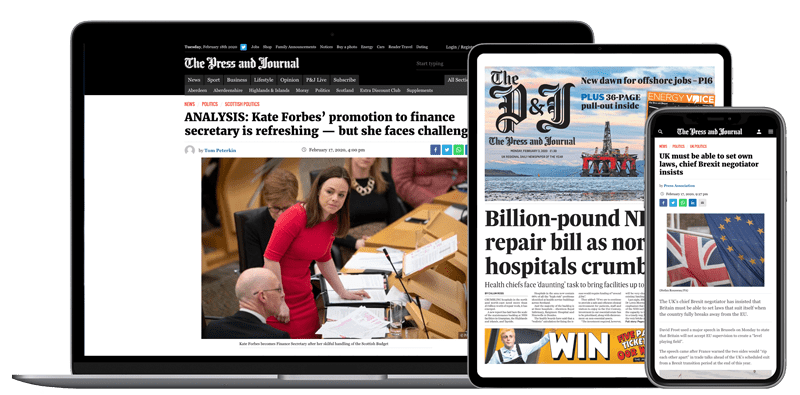 Help support quality local journalism … become a digital subscriber to The Press and Journal
For as little as £5.99 a month you can access all of our content, including Premium articles.
Subscribe