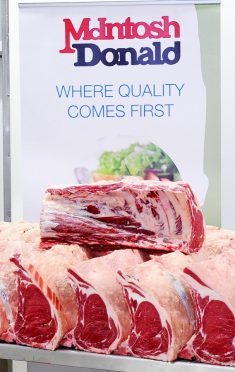 The parent company of major UK food processing group 2 Sisters moved back into the black last year.
Newly published accounts at Companies House show Boparan Holdings achieved a pre-tax profit of £2.7million in the year to July 30, a significant improvement on the £11.5million loss it reported a year previously.
The Boparan accounts show total group turnover was flat at £3.12billion in the period, while operating profit before exceptionals came in at £90.5million, a £33.3million uplift on the previous year.
Net debt for the period was down by £10.2million, taking its total liabilities to £706.4million.
The 2 Sisters operation has three major operational units in Scotland, including a major poultry plant at Coupar Angus and the McIntosh Donald lamb and beef processing business at Portlethen.
Separate filings for 2 Sisters Food Group show the firm achieved sales of £988.9million in the year to July 30, up from £944.7million in 2015.
The unit – which carried an average of 5,270 staff in 2016 – made a loss before taxation of £7.71million in the year, although that figure represented a significant improvement on the £36.31million loss of the prior year.
In his strategic report to the 2 Sisters accounts, director Stephen Leadbeater said the improved turnover within the unit largely reflected an increase in volumes following a transfer of processing from other group companies.
"Gross profit margin has improved significantly compared to the prior period and reflects a focus on efficiency, product innovation and the effect of the restructuring programme that was ?substantially completed in the prior period," Mr Leadbeater said.
"The increase in turnover, improved gross margin and savings in administration costs have resulted in reducing the company's loss before taxation by £28,592,000 versus the prior period."
Mr Leadbeater also signed off on the strategic report for the parent company Boparan's accounts.
He said: "Good progress and performances across the group's business show that its commitment to customer partnerships, efficiency, innovation and investment to drive profitable sales is continuing to pay off.
"Despite the uncertainty arising from the UK's decision to exit the EU, continuing cost pressures and through grocery market, the group remains well placed to continue to deliver in its new financial year."