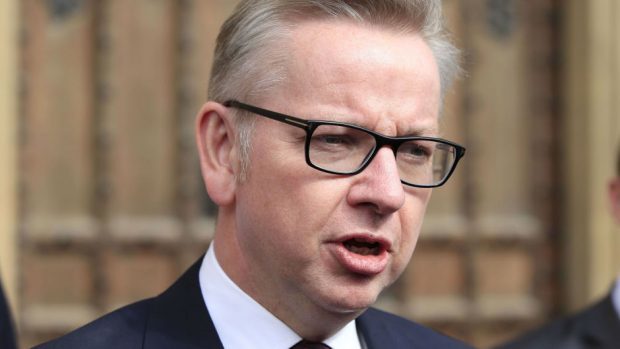 Michael Gove has warned America it can't "simply walk out of the room when the heat is on", saying he "deeply regrets" Donald Trump's approach to the Paris climate change agreement.
The environment secretary also insisted yesterday that the UK would not weaken environmental or animal welfare standards to secure a US trade deal post-Brexit.
And he criticised the Common Agricultural Policy (CAP) for too often rewarding the "already wealthy", revealing farmers will have to earn subsidies in future by agreeing to protect nature and the countryside.
Aberdeen-raised Mr Gove made the comments during a wide-ranging speech, his first since returning to the Cabinet.
Describing himself as an "environmentalist" and promising a "green Brexit", he said: "It is because environmental degradation is such a threat to future prosperity and security that I deeply regret President Trump's approach towards the Paris Agreement on Climate Change.
"International co-operation to deal with climate change is critical if we're to safeguard our planet's future and the world's second biggest generator of carbon emissions can't simply walk out of the room when the heat is on.
"It's our planet too and America needs to know we can only resolve this problem together."
President Trump has announced he will pull out of the agreement, but Mr Gove said he hoped the leader would have a "change of heart".
On trade, the minister said deals must not come at the risk of dropping environmental protections.
Asked whether striking a trade deal with the US could weaken standards, he said: "I don't think we should compromise on environmental standards, or sustainability, or animal welfare, in pursuing freer trade.
"The future of Britain in trading terms is not taking part in a race to the bottom. It's competing in terms of quality."
He added: "Of course it is important we explore new trading opportunities, not just with the US, but with other nations across the world.
"But it must not be, and my Cabinet colleagues are agreed on this, at the risk of dropping any environmental standards or protections we currently enjoy."
Outlining plans for future support for farmers, Mr Gove indicated they will be paid for delivering environmental benefits rather than simply handed resources based on the amount of land they farm.
The UK Government has promised to keep overall subsidies at the same level until 2022, and the minister pledged to ensure farmers are "generously" supported for "many more years to come".
But he added: "That support can only be argued for against other competing public goods if the environmental benefits of that spending are clear."
Opposition politicians wasted no time in going on the attack, while farm leaders' response was much more positive.
SNP MSP Stewart Stevenson characterised the move as an "unambiguous Tory threat to continued agricultural support funding after 2022", while former Liberal Democrat leader Tim Farron claimed the best way to protect British farmers was to defend the UK's membership of the single market.
But NFU Scotland director of policy Jonnie Hall said the idea of earning support "chimes with our thoughts".