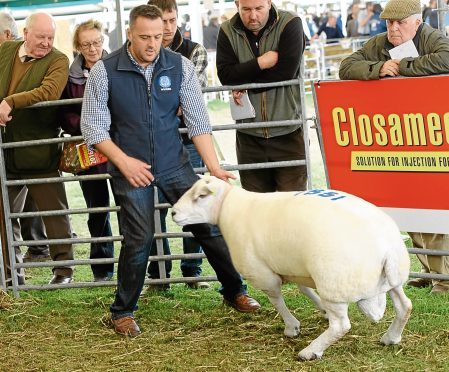 Auctioneers are hoping for a repeat of last year's record-breaking sales at Europe's largest one-day sale of rams next week.
Kelso Ram Sales saw turnover fall just short of £3million last year, and there is anticipation that the 5,411 rams due to go under the hammer could beat the record.
Entries for this year's event at Springwood Park, Kelso, on Friday, September 8, have increased by 266 rams on 2016 numbers, a sign that the sheep trade is continuing to steadily improve, sale officials said.
And with the weak pound proving beneficial to UK sheep prices, producers are hopeful that ram prices will continue to hold up well.
"The prime lamb market has been in front of last year, and with the weaker pound it looks set to stay that way," said George Purves of United Auctions.
"Last week we had a six-year low in sterling against the euro, so that should keep trade in good stead."
Ron Wilson, of the Border Union Agricultural Society (BUAS), which organises the ram sales, said that while prices are strong, there was lots of enthusiasm from farmers around the sale.
However value for money remained key for potential buyers, he said.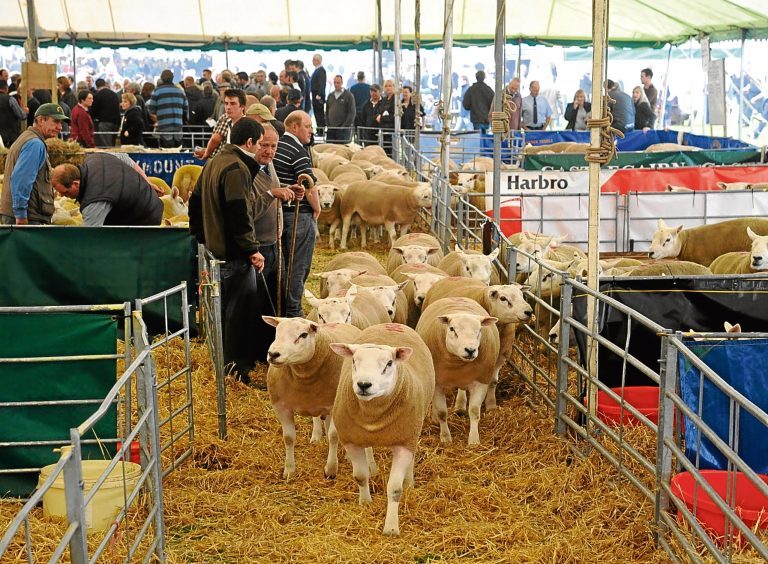 As in 2016, Texels lead the entries with 1,928 lots forward, followed by the Suffolks with 1,113 entries, Mr Wilson said.
Bluefaced Leicesters were up with 643 entries, while Beltex entries had increased to 265.
Charollais and Lleyn entries were down slightly with 271 and 112 respectively, with a rise in the crosses to 794 from 661 in 2016.
Other entries included Border Leicester with 81, North Country Cheviot with 56, Blue Texels with 40, Berrichon with 37, Dutch Texels with 21, Hampshire Downs with 18, Poll Dorset with 11, Vendeen with 10, Roussin with six and Oxford Down with five.
Mr Wilson added: "Once again it will be an extremely busy day for seven auction companies selling 478 lots in 16 different rings from the 396 consignors.
"This is the 180th ram sale since the first in 1836 when 120 Cheviot and Border Leicesters sold for between £3 and £4 each compared with last year's average of over £600."
Robert Paterson of R. and M. Paterson, Upper Auchenlay, Dunblane, said he was confident prices would hold up as well as last year for his 15 Charollais, 15 Beltex and 25 Charollais cross Beltex shearling rams. He said: "It's hopefully going to be a good year because premium lines held up so well.
"We produce purely for a commercial basis. They are grass-reared from the day they are born and never spend a day inside. We like to think they will go well and for a premium."
Stuart Wood, who runs the Woodies flock of Beltex sheep at Skene, near Aberdeen, said he was hopeful that high prime lamb values would pass on to the ram market. He said: "The good fat lamb trade has put a lot of confidence into the farming world. The market is pretty buoyant at the moment, and that has rubbed off in the lamb sales."
Mr Wood said he expected to sell 15 Beltex shearlings, five Dutch Texels and five Blue Texels predominately to pedigree buyers, as well as 10 Charolais cross Beltex and Texel cross Beltex to commercial ones.
He said: "The Dutch Texels went for 3,600gn last year, which was fantastic trade, and I've already had people on the phone asking about this year's stock.
"I've been focusing on lambs with a very good shoulder, good top and loin, and I am also looking for a lot of muscle on the Beltex.
"Commercial buyers are very switched on to extreme muscle or tight skins for crossing with mules, so I've been looking for very good skin too. That's where you can get a premium for commercial animals."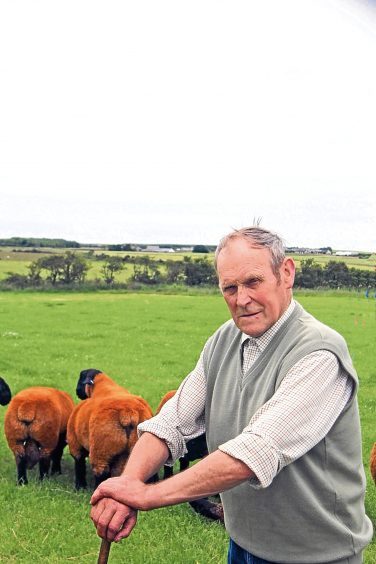 Veteran Suffolk breeder Jimmy Douglas, who runs the Cairness flock near Fraserburgh, said he had also been breeding with an eye on the commercial market thanks to good market prices.
He said: "I usually try to breed for the pure breed market, but I've been trying to breed something that will appeal to commercial buyers as well.
"I've been looking for clean legs, a good top and something that will go straight to lamb.
"I'm selling 12 ram lambs and I think it should be a good sale."
Mr Purves agreed that Suffolk trade should be good this year, with numbers showing strong growth.
He said: "They are a swift to mature breed, so the early performing sheep prices this year suited them well.
"We're also seeing more cross rams coming through too, and their numbers keep on increasing.
"They have high vigour and modern ewes cross well, so they are producing quality lambs."