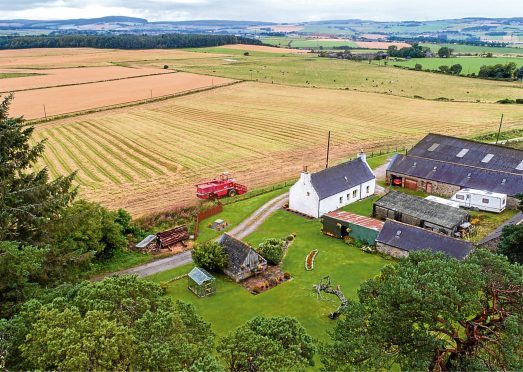 A traditional Aberdeenshire livestock farm and an extensive croft in Caithness have been launched to the market.
First up in Aberdeenshire, Aberdeen and Northern Estates is marketing Herrickside and Wester Herricks, near Keith.
The 124-acre traditional farm property comprises a three-bedroom farmhouse, two-bedroom cottage, a range of farm buildings and farmland.
Currently owned and run by the Milne family, the enterprise is managed as a grassland and fattening livestock farm. It carries about 80 fattening stock and 150 feeding sheep in the winter. Spring barley has also been grown in the past.
The Milne family originally came to Herrickside in 1925 as tenant farmers on the Seafield Estate. They bought the farm as sitting tenants in 1955, and bought the adjacent Wester Herricks in 1968.
The property is now offered to the market for sale as a whole for offers over £500,000 or in two lots.
The first lot, with an asking price of offers over £470,000, includes the farmhouse, cottage, farm buildings, and 114 acres of farmland.
The land in this lot is predominantly classified as Grade 3 (2), and there is a small area of Grade 4 (1) land to the east of the farm.
The second lot, which is on the market with a price tag of offers over £30,000, comprises a 10-acre field of Grade 3 (2) arable land with good roadside access. Basic Payment Scheme entitlements are not included in the sale, but available via separate negotiation.
Next up, a croft at 6 and 7 Lochend, Barrock, Caithness, has been launched to the market by Strutt and Parker.
Extending to 308.12 acres, it is for sale as a whole for offers over £750,000.
It includes two cottages – both in need of upgrading and modernisation – and a range of traditional and modern buildings including a general purpose shed, cattle courts and an open sided barn.
The land is classified as a combination of Grades 3, 4 and 5, lying between 30 and 50-metres above sea level. There are 13.56 acres of grass leys, 174.6 acres of permanent pasture, 118.46 acres of rough grazing, and 1.5 acres of other land.
Basic Payment Scheme entitlements are included with the sale, and the entire property is subject to crofting tenure.