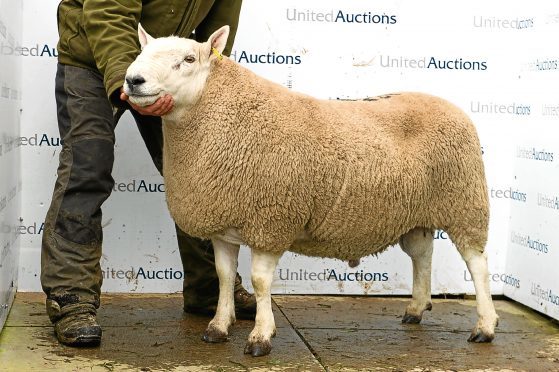 Hill North Country Cheviot rams met a strong demand from both pedigree and commercial breeders at the iconic Lairg Auction Mart.
The United Auctions conducted sale topped at £13,000 for a two-shear from Suisgill, and 270 rams sold to average £1,128.40, an increase of £142.14 compared to the 2016 sale.
Females sold less favourably and were well back on the year as 1,889 gimmers averaged £104.28, which was down £21.86 on previously.
Gimmers sold to a top of £210 for a pen of hill types from the MacKenzie family's Heathmount dispersal, and £170 for park types for a pen from A. MacKay, South Balkeith, Tain.
A total of 6,748 ewes averaged £68.96 – down £15.15 on 2016 – selling to a top of £270 for one-crop ewes from the MacKenzie family's Heathmount dispersal.
A centre record was achieved when a pen of six black cheviot gimmers, also put forward as part of the Heathmount dispersal, sold for £500 a head.
The buyer was Richard McCulloch, Overhill House, with the proceeds going to rural hardship charity RSABI and the Highland Hospice.
Selling for the top price of the day at £13,000 was a two-shear ram by Bailenacraobh Model, a stock sire bought at Lairg for £7,000, from the Suisgill flock shepherded by David Henderson.
He was used at home as a shearling and sold to Borders breeders, the Elliot family for their Woodside flock, Kelso, and the Allen family for their Stouphill and Whitefield flocks, near Alnwick.
David then sold two from his shepherd's pack for £4,200 and £4,000 to Joyce Campbell, Armadale, and Achentoul, respectively.
The former was by Torrish Phantom and the latter was sired by Torrish Photogenic.
The first of two rams to sell for £10,000 was a three-shear from the Welbeck flock, presented for sale by Billy Millar and Allan MacLean.
Selling to Suisgill, he is by a Northhouse sire and out of a ewe by a Balnakeil tup.
The Allens – Billy, Kate, Ruth and Dallas – also received £10,000, this time for a two-shear son of Auldallan Psycho, which was bought for £3,200.
He heads back south to the Glamis-based Auldallan flock with Bob and Kay Adam of Newhouse of Glamis, Forfar.
The Balnakeil flock from Andrew and Elizabeth Elliot, and shepherds Gordon and Elaine Fletcher, saw their best sell to Badanloch for £9,000.
This price was paid for a two-shear by Brackside Mump, a £5,000 purchase.
Later, the Hartside flock, which is managed by Alan Hutcheon, received £7,800 from the Wilson family, Newbank, for a two-shear named Hartside Hill TC. He is by Hartside Rooney.
Recouping some of its expenditure, the Badanloch flock, managed by Hugh Mackenzie, brought in tops of £7,000, £4,800, and £4,000 for three-shear entries.
Selling to Martin Cook, Erribol, for £7,000 was a son of North Loch Naver Nomad.
That same ram sired the £4,800 tup that sold to Keoldale SSC, Durness.
And at £4,000 was Badanloch Beast, a son of Keppoch Giant.
He stood champion at the Sutherland Show earlier this year, and sold to Joyce Campbell at Armadale.
The Hethpool flock, which is run by Bill and Fanny Elliot at Wooler, received a top price of £6,200 from Philiphaugh and Whitehope, both near Selkirk, for a two-shear named Hethpool Tycoon, which is by Hartside Hill Note.
Following on at £4,500 was a two-shear of Braehillor Stroma from Armadale, which sold to Dunbeath as well as a pen of ewes from the same home for £135.
Joyce Campbell then paid a further £4,000 for a three-shear from the North Loch Naver flock run by Jan Mackenzie.
He is by a home-bred son of Stouphill Laddie, which also sired the £3,000 North Loch Naver Matedor which sold to Hope and Melness, Lairg.
The Thomsons at Kelsocleugh and Hownam Grange paid £3,600 for Brackside Ten Pin.
He is a two-shear son of Instack Bingo from William Sutherland.
Selling for £3,200 to the Tweedies' Buchtrig flock near Jedburgh, was a three-shear from the Durness flock of Keoldale SSC.