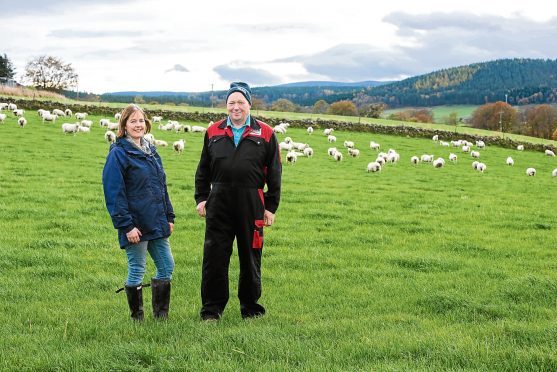 Genetics, health and nutrition combined with the Robertson family's enthusiasm and attention to detail led to Titaboutie Farm, near Aboyne, being named as a runner-up in this year's Agriscot Scottish Sheep Farm of the Year Award.
Titaboutie Farm is a rented 895-acre unit farmed by Andrew Robertson in partnership with his retired parents, George and Jean, and his wife, also Jean.
It carries just under 200 acres of cereals, and a mixture of rotational, permanent and hill grass for its flock of 450 home-bred Highlander ewes and 125 ewe hoggs, and herd of 160 suckler cows and 30 heifers.
The sheep enterprise has changed significantly with the introduction of Highlander ewes and Highlander and Primera rams.
"Efficiency in sheep farming is all about producing as much of the required product as cost-effectively as possible. The Highlanders produce a lot more lambs and are easy to look after, with lambs which are strong and vigorous," said Andrew.
The first Highlander rams were bought in 2010 and the flock is now at least 75% Highlander.
Lambing percentage at scanning has increased year-on-year from 160% for the traditional cross ewes to 195% in 2017 for 430 ewes with only six barren. The 132 ewe hoggs scanned at 120% with only three empty. "The focus on maternal traits means we have a lot of ewes rearing triplets and hoggs with twins," said Andrew.
Lambing takes place outdoors from the end of March and the family ensures all lambs get good quality colostrum in the first few hours.
Five years ago, the family identified a selenium, cobalt and copper deficiency in the ewes and they have been bolused ever since. The result has been a marked improvement in performance and last year they also gave the smallest of the lambs a bolus. This improved growth rates, and they overtook the bigger lambs. This year all the lambs were treated, and Andrew believes growth rates have improved across the flock.
The majority of the Robertsons' lambs are sold from October to December when there is a good demand from the abattoir.
They are finished first on grass, then a hybrid rape and kale mix with the tail end finished on turnips.Lambs are sold to McIntosh Donald and last year 91% reached the target weight of 16 to 21kg deadweight, and 99% were U or R grade.
As an entirely closed flock – only rams are purchased directly from Innovis – the Robertsons find there is no need to vaccinate for abortion. They also only worm ewes once a year and dose for fluke twice. Footvax has been used for the past few years to cut down on footrot and any ewe which needs treated more than once is culled.
"The advantage of breeding your own replacements is that they can be selected from the best breeding families with no health problems," said Andrew.
He said the family was delighted to be one of the three finalists for the AgriScot Scottish Sheep Farm of the Year Award, run byAgriScot and Quality Meat Scotland with support from Thorntons Solicitors.
"Although the sheep enterprise is only one-third of what we do at Titaboutie, it is very important to us. The sheep complement the cattle enterprise and, with more ewes and hoggs to the tup this year, I can see us expanding our flock at the expense of some cereals in the future," added Andrew.