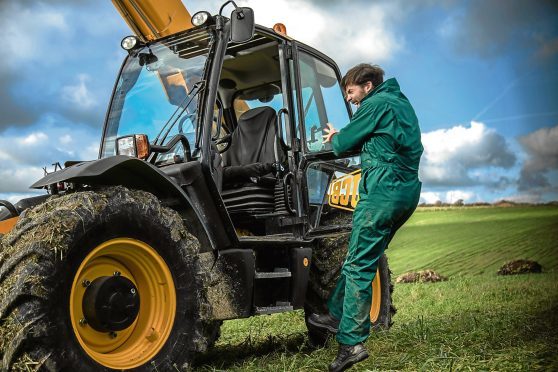 The electricity industry has called for safer working on farms in light of the fact more than 1,000 incidents with overhead power lines were reported on UK farms in the past five years.
The Energy Networks Association (ENA), which represents UK electricity network operators, has launched an awareness campaign – Look Out Look Up! – in response to the number of incidents involving overhead power lines in farms and fields.
Research carried out by the association reveals that more than 85% of people never worry about getting too close to an overhead power line, despite the potentially fatal consequences if contact occurs.
Meanwhile, data from the Health and Safety Executive (HSE) reveals that in the past five years there were five deaths and 1,140 near-miss incidents involving machinery and farm equipment touching overhead power lines on UK farms.
It said during a four-week period in the Harvest 2017 season, 39 incidents were reported making the potential risk at harvest of more than one fatality per day.
ENA said the risk to farmers and farm workers was high all year round and not just at harvest.
Every year around 225 incidents are reported where farm vehicles and machinery make contact with overhead lines – these typically involve equipment such as tipping trailers, lorry-mounted cranes, combine harvesters and telehandlers.
To reduce the number of incidents occurring on farms, a film highlighting the potential risks on farms has been created as part of the Look Out Look Up! campaign.
"There are too many incidents involving overhead power lines and agriculture workers. When incidents happen, they are serious. If a person comes into contact with an overhead power line, it will result in death or serious injury," said Nick Summers, head of safety, health and environment at the ENA.
"Our research also showed that there is a misunderstanding surrounding the dangers of overhead power lines, with over two thirds (68%) of people not knowing the minimum distance between the ground and an overhead power line.
"That's why we have launched this campaign and created a new information film. We want to prevent deaths and injury by making sure people know about the risks of working near overhead power lines, and how to avoid them."
The information film contains advice on how to risk assess, including knowing where overhead power lines are on the farm and marking them on a map.
It also explains to farmers that if an incident occurs they should stay in the cab of the vehicle, or if this is not a safe option they must jump clear of the machine, move away and don't touch it once on the ground.
If an incident does occur, farmers and crofters are asked to call the national 24-hour emergency number 105.