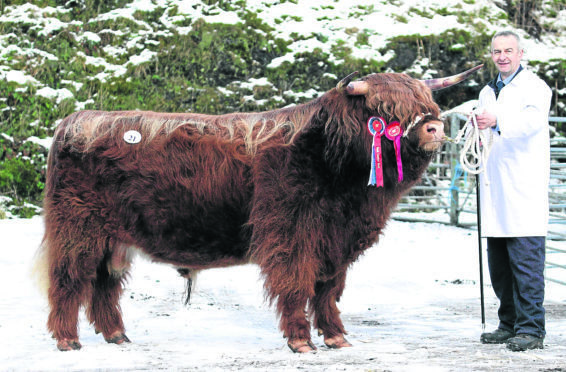 A 10,000gn prizewinning Highland bull from the south of England was on his way to a tougher hill lifestyle at Dalmally last night.
The price was the highlight of a mixed-fortunes sale of Highland bulls and females at Oban Livestock Centre, where averages were up on the year for three-year-old sires, but down for premium two-year-old stock bulls.
The 10,000gns figure was paid by the 8,000-acre Castles Estate at Dalmally for the reserve champion, Eoin Mhor 17th of Mottistone, from Michael Poland of Upham, Southampton.
Castles Estate manager Dan McLaughlin said the sire would be used on the estate's Highland cows to breed replacements which are crossed with a Shorthorn bull to produce commercial cattle on land which ranges to the top of Ben Cruachan at 3,800ft.
"It's a hard hill place so we need Highlanders for the rough ground," he said.
"This bull was the best at the sale by a mile and we liked his bloodlines."
The next highest price was 8,000gns, paid by the show judge Charles Maclean, Eastleigh, Hants, for Eachann Ruadh of Hyndford, the bull he chose as champion on Sunday.
At 7,500gns David Soutar, Strathellie, Alyth sold the 30-month-old sire Fionn Mhor of Strathellie, the reserve supreme champion at the Balnabroich show and male champion at the East of Scotland and Alyth shows last year.
Michael Poland invested 5,500gns of his top-price funds in Balmoral Estate's Coirneal 2nd of Balmoral, the junior champion at the national show last year. And at 5,000gns South Uist breeders Mr and Mrs A MacDonald, Ardbhan, Bayhead, sold Gille Dubh Mairearad of Ardbhan to Ormsary Estate at Lochgilphead.
Heifers sold to a top of 3,800gns for Furan Magaidh 7th of Glengorm from Glengorm Estate at Tobermory. She was bought by AE Glover, School Farm, Aspull, Wigan.
The top price for cows was 2,000gns, paid for Kelty breeder Donald MacNaughton's cow Hayley 5th of Earn. She was bought as a foundation cow for the newly-established Auchleeks fold at Blair Atholl. New owner Hugo Headicar said she would be one of six hobby cows on the estate.
l Averages: Two-year- old bulls (11) £3,360, three-year-old bulls (seven) £4,814; yearling bulls (four) £1,167, senior heifers (three) £3,430, three-year-old heifers (seven) £1,372, two-year-old heifers (five) £2,089, yearling heifers (11) £630, cows (two) £1,443.