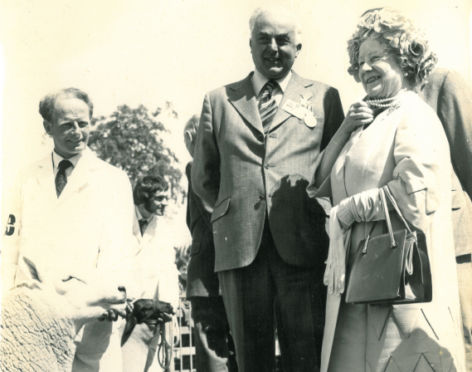 A well-known Highland farmer who toiled over a 700-acre farm for decades has died at the age of 94.
William Noss Clyne, who was known as Noss, died in his hometown of Wick on July 19.
The Clyne family were initially butchers before moving into farming and at one point were renting five farms in Caithness.
They have lived on and farmed the Noss peninsula since 1892.
Mr Clyne was the eldest of three children and, from a young age, he shouldered the responsibility of running the family farm.
Several families lived on the site and, in the early years, he had as many as 17 men and one woman working for him.
As his career progressed, Mr Clyne introduced new breeds of livestock, grew barley for the German beer industry and built a grain dryer.
He also entertained many members of the British Army and RAF as Noss Farm became a military base during the Second World War.
Mr Clyne married physiotherapist Elizabeth (Beth) Cochrane in Glasgow Cathedral in 1951 following a long-distance relationship which blossomed from a blind date, and the pair had four daughters.
Working with shepherd Jimmy Gunn, Mr Clyne's pedigree flock of North Country Cheviot sheep won numerous awards.
And he won further accolades in the years to come, after breeding his sheep with The Queen Mother's Longoe flock at the Castle of Mey in Caithness.
Mr Clyne's influence spread further than just the north of Scotland farming community.
He was a president of Caithness National Farmers Union and spent nine years on the organisation's general purposes committee.
He was a director the NFU Mutual and of the Royal Highland and Agricultural Society, president of the Caithness County Show in 1956 and also a founding member in the 1960s of the Caithness Livestock Breeders Association.
Outside of farming, Mr Clyne was dedicated to the RNLI and received a gold badge for his years of service as chairman of the board.
He was also a Justice of the Peace and served on the country education and licensing committees.
After retiring in 1989, he loved to tell stories of his farm during the war years, with fond memories of building an airbase and the anti-aircraft guns stationed behind Noss House.
In addition, Mr Clyne enjoyed travelling and visited a raft of countries across Europe, Africa and North America before his health deteriorated.
His daughter Patricia Clyne-Kelly said: "Noss was a tall, charismatic, good looking man who held a strong presence in the auction mart ring, at times lifting the tense atmosphere with his subtle wit.
"He had a good sense of humour and was well liked and respected by his contemporaries in the farming community nationally having many friends in farming all over the UK."
She added: "The atmosphere at his funeral on July 31 was very touching, many having travelled great distances.
"St Fergus Church was full of respect and sadness, his coffin draped in the RNLI flag.
"There was a feeling that all present would have liked to shake Noss' hand just one more time.
"He was a farmer and a gentleman."