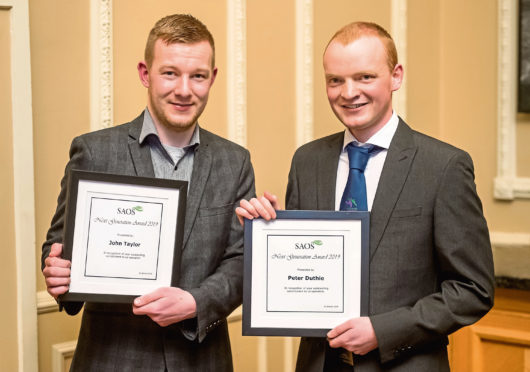 Scotland's co-op-based Next Generation Award has been shared by Peter Duthie and John Taylor of Scottish Pig Producers (SPP) after the judging panel found it impossible to choose between them.
Both recruited straight from school in Huntly by Gordon McKen, the joint winners were nominated for the biennial award by SPP chief executive Andy McGowan, who said their excellent work had freed him to concentrate more on customer engagement and the strategic development of the Scottish pig industry.
"John primarily manages operations for the co-op's Scottish members, while Peter focuses on Northern Ireland," said Mr McGowan.
"Between them, they deliver the complete weekly cycle of schedule, logistics, customer liaison, movement licensing, banking and member payments, along with sorting out numerous challenges. This involves about 10,000 pigs, 110 members, 11 customers and a weekly value in excess of £1 million.
"John also organises the operations for our other company, Wholesome Pigs Scotland, whilst Peter does the WPS accounts and manages our ISO9001 accreditation."
Mr McGowan also praised their response when a fire closed the Brechin abattoir in 2017, leaving them to find immediate alternatives for more than 80,000 pigs, a task which meant grappling with drivers' hours regulations, limited haulage capacity, veterinary inspections and numerous other challenges.
"At one stage," he added, "they even both went out to help a member tag and load pigs at 4am because of last-minute changes.
"Then, when the SPP bookkeeper left last May, they said they'd try covering the work between them, which they did with no visible impact on their other roles."
SAOS chairman Mark Clark said: "Peter and John are clearly invaluable to SPP and are wonderful examples of the kind of work ethic and attitude we're looking to recognise."