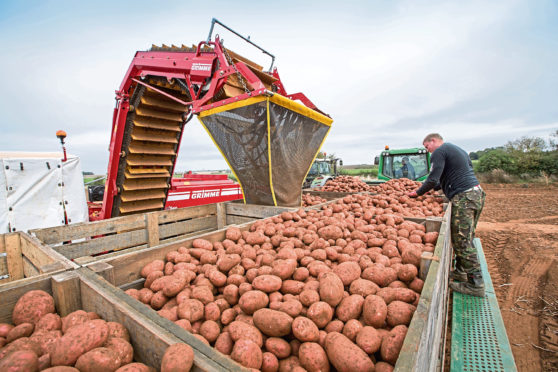 Potato growers have been battling hard in recent days to continue lifting crop in the face of extreme rainfall, with forward forecasts not looking much better.
Banffshire grower Graham Twatt, Easter Cushnie, who grows 300 acres of seed for export, had to cope with more than 100mm of rainfall on his farm last Saturday alone.
"I opened the rain gauge at 8.30am and there was 38mm in there," he said.
"After emptying it at this first visit, I went back again at 11.30am and there was 50mm in the gauge and it was overflowing. Thankfully, we've already completed two thirds of our seed lifting, all of which includes our wetter fields. That leaves us with about 100 acres to go, but all of that is on drier land."
Even so, Mr Twatt has only been able to harvest about 15 acres this week, down on a normal week when 80 acres can be harvested if conditions allow. Crop quality is good at Easter Cushnie, however, with seed grading already under way for product going to Thailand and Egypt.
Across at Haughhead, near Laurencekirk, seed grower John McWilliam is celebrating having finished lifting his 150-acre crop on Thursday evening.
He said: "It was a difficult finish certainly, so it's great to have got it done, especially as the signs are of the weather deteriorating again this weekend.
"There's still a lot of crop to be lifted in the area, of course.
"Once you get into these sort of conditions, it all becomes a lot more work and the harvesting costs seem to go up with just about every rain shower."
Fiona Smith, who runs Westerton Farmers, Laurencekirk, was upbeat about the weather challenges of the past few weeks, with seed harvest completed in good conditions and the first block of ware on track for completion this weekend.
Mrs Smith added: "It has been challenging with the rain, of course, especially on the heavier land and it's definitely not a great year weather-wise. The seed came out of the ground in really good condition, however, and we're happy with our ware crop yields and quality as well."