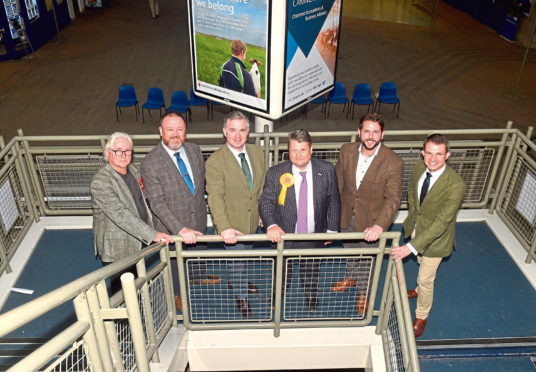 Land reform and holding retailers to account on pricing transparency were among the subjects fiercely debated at an NFU Scotland (NFUS) election hustings in Inverurie last night.
Farmers from across the north-east took the chance to grill politicians and dozens attended the members' only event at Thainstone Mart.
Candidates from the three contested seats covering the area were invited along to be scrutinised in order to try and win the agricultural vote.
Of the 12 candidates standing for election in Banff & Buchan, West Aberdeenshire & Kincardine, and Gordon; six attended to take questions – Brian Balcombe, Labour – David Duguid, Conservative – Colin Clark, Cons – James Oates, Lib Dem – Fergus Mutch, SNP and Andrew Bowie, Cons.
Tenant farmer Tom Johnston argued that the industry was "stagnating" under SNP rules of 10-year leases and landowners should be allowed to give longer rent periods with confidence and asked the candidates what their solution would be.
SNP candidate Fergus Mutch agreed more should be done to help new entrants and said, if elected, he would take steps to make more public land available.
The NFUS manifesto, issued last week, calls for more fiscal incentives for new entrants.
However Colin Clark said the real issue was "risk to ownership" with the Right to Buy policy, and added: "This isn't Westminster's decision – it is the Scottish Government's. Farmers are afraid to rent out their land – it is the last thing I would do with my farm."
NFUS has also called for improving the standards of food producers in the supply chain – one member said the process was "shambolic" and wants to see more profitability transparency between producers and retailers.
All candidates agreed that this would be something they would implement and Conservative David Duguid said: "It is the primary producers who are suffering – price increases do not always come back down to you – there needs to be more transparency."
Fergus Mutch said he would pursue a Private Members Bill on a fair price, also giving labelling on products "clear provenance."
Labour candidate Brian Balcombe, went further to suggest implementing a domestic Fair Trade mark on British farm products, adding: "Where a decent proportion of the money goes to the farmers."
Liberal Democrat candidate James Oates agreed that "branding better" and making direct sales with "better margins" was the way forward. "Common branding," he said. "Will give us more power in our sails."
Conservative candidate Andrew Bowie joked that "in the best sense of politics" if he is re-elected he would also submit a Fair Price Private Members Bill, adding: "I'll steal that idea from Fergus – and take all the credit."