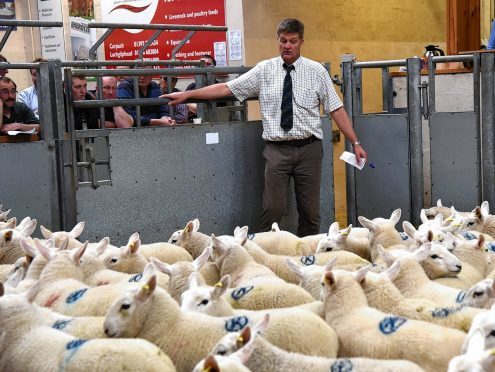 More than 40,000 lambs are set to go under the hammer at sales in the north over the next two weeks.
The 2016 store lamb sale season kicks off on Tuesday August 9 at Aberdeen and Northern Marts' Caithness Livestock Centre in Quoybrae.
The mart's annual sale of North Country Cheviot lambs starts at 10.30am and around 4,500 lots are forward.
Auctioneer Stuart Slessor said: "We have an outstanding entry forward for our season opening sale, which includes many top-quality lambs from the Caithness and Sutherland leading flocks, making this a great event for potential buyers."
Later that day award-winning sheep farmer John Scott, of Fearn Farm, near Tain, will hold his second annual on-farm store lamb sale.
The fixture, which will be conducted by Dingwall and Highland Marts, will feature around 2,000 store lambs comprising Texel cross, Suffolk cross, Beltex cross, Aberfield cross, Cheviot cross and pure Cheviot.
Mr Scott said the majority of the lambs were from the farm's outlying holdings, and born in April and May.
The following day on Wednesday August 10, Dingwall and Highland Marts is holding its first main store lamb sale of the year.
Auctioneer Paul Spencer said around 15,000 entries are forward from all corners of the Highlands from Skye and Caithness, to the Isle of Muck.
The sale, which starts at 10am, will comprise: 10,000 Cheviots, 2,000 Texel crosses, 1,000 Beltex crosses, 1,000 Suffolk crosses and 1,000 other continental crosses.
Mr Spencer said: "We expect a full attendance of buyers because there is a lot of grass about and the fat lambs are selling stronger than they were last year."
He said numbers were up on last year because there were more lambs on this year.
The following week, the iconic Lairg Lamb Sales takes place on Tuesday August 16.
The sale, which is thought to be one of the biggest one-day store lamb sales in Europe, has an increased entry of 19,190 lambs forward.
United Auctions, which conducts the sale, said it was one of the strongest entries they had seen in a number of years.
Auctioneer Donald Young said numbers were up around 5,000 on last year, partly as a result of new consigners coming on board, but mainly due to an increase in numbers entered from regular sellers.
He said the bulk of the lambs will be stores, however around 5,500 will be "top quality ewe lambs". The sale starts at 10am.